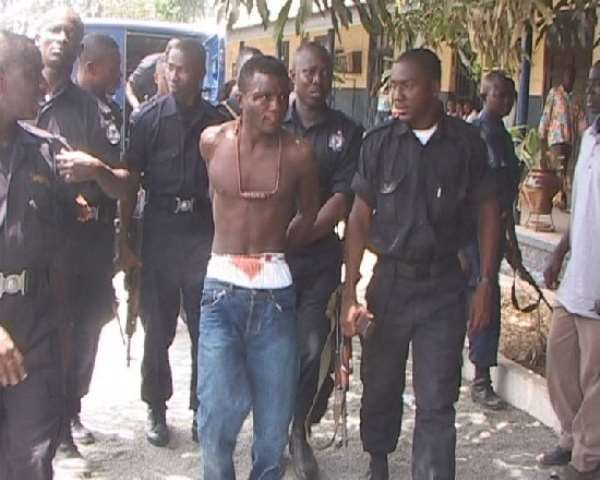 Accra, May 30, GNA - The Greater Accra Regional Police Command has chalked another success in its fight against armed robbers by arresting another high profile member of the gang of Aryee Aryetey, alias Ata Ayi, who is standing trial for various robberies.
The Police at Domeabra in the Greater Accra Region nabbed Nagayi Tetteh, an accomplice of Ata Ayi, the Public Relations Officer at the Regional Police Headquarters, Assistant Superintendent of Police (ASP) Jordan Quaye told the Ghana News Agency in Accra on Monday. Tetteh, alias Ga Mantse, a Taxi Driver, who had been on Police wanted list was arrested last Saturday following a tip-off, ASP Quaye said, adding that Tetteh had confessed to two robberies at Tema Meridian Hotel and Trust Towers in Accra last year.
ASP Quaye said Tetteh, who confessed to be a colleague of Ata Ayi, disclosed that he received 1.5 million cedis and two million cedis, respectively for the two robberies.
Tetteh mentioned some of his accomplices as Nii Armah, Safo and Ata Ayi.
He said Tetteh claimed that realizing the dangers associated with robbery, he decided to quit but Ata Ayi threatened to kill him should he quit.
Tetteh also claimed that he, therefore, went into hiding. ASP Quaye said the Police would soon put Tetteh before court.