17 July 2017
|
Regional News
MCE Of Cape Coast Meets Investors In US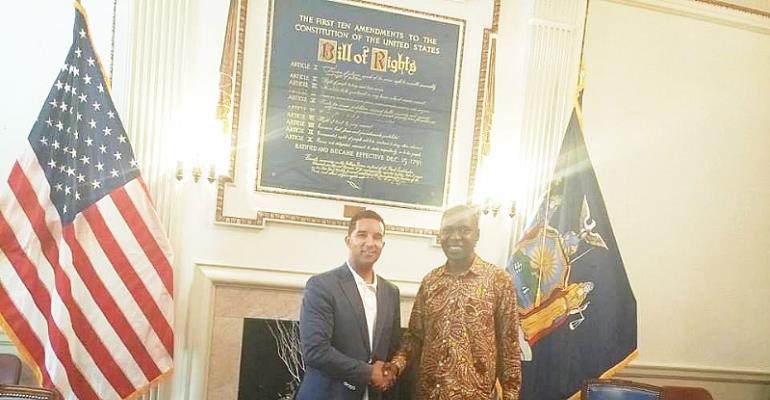 The Metropolitan Chief Executive of Cape Coast, Hon Ernest Arthur has paid a courtesy call on Mr Richard Thomas, the Mayor of Mount Vernon, New York, United States of America.
In what was to be a private visit, Hon. Arthur ceased the opportunity to discuss bilateral relations and investment opportunities with the Mayor of Mount Vernon.
The MCE revealed that, his visit discussed investment opportunities in Cape Coast and Ghana and how investors in America especially Mount Vernon and West Chester County can take advantage. "
I decided to speak to Thomas on investments and cooperation because, our cities share commonalities. That is, our rich history , friendship and kinship. The structure of the economy of Mount Vernon may be similar to Cape Coast, Hon. Ernest Arthur explained. I indicated to Mayor Thomas that they can invest in the tourism sector, agriculture, manufacturing, real estate and education.
My commitment is fueled by the vision and investor friendly policies of our government to turn the fortunes of Ghana. We are fortunate to have a government which has birthed a renewed confidence in the investor community towards our country around the globe which the Hon Mayor Thomas gave credence to in our meeting.
Mayor Richard Thomas expressed his delight for the visit and express appreciation to Hon. Ernest Arthur. The two discussed sister-city relationship between Cape Coast and Mount Vernon. The Mayor of Mount Vernon expressed his readiness to lobby investors to invest in Cape Coast. He has therefore accepted an invitation to visit Cape Coast anytime soon to acquaint himself with investment opportunities.
In a related development, Hon Ernest Arthur paid a visit to Mr. Barry Lefkowitz, a former Mayor of Burlington, New Jersey. Currently, he is the President of Management and Government Resources, LLC Economic Development, Governmental Relations and Strategic Partnering. The meeting discussed investment opportunities in Cape Coast and how Mr. Lefkowitz and his group could help.
Mr. Barry Lefkowitz and his group have expressed their willingness to take opportunity of tourism resources in Cape Coast to invest in hotel accommodation, real estate and other tourism facilities.
The MCE of Cape Coast has reiterated his commitment to the development of Cape Coast. "As I indicated to you in my inaugural address, I am committed to fighting joblessness, poor sanitation and fallen standards of education. The Assembly cannot do it alone, we need partners and that is why I ceased this opportunity to meet these great people," the MCE stated.