17 July 2017
|
General News
$10,000 Water Project for Adaklu Launched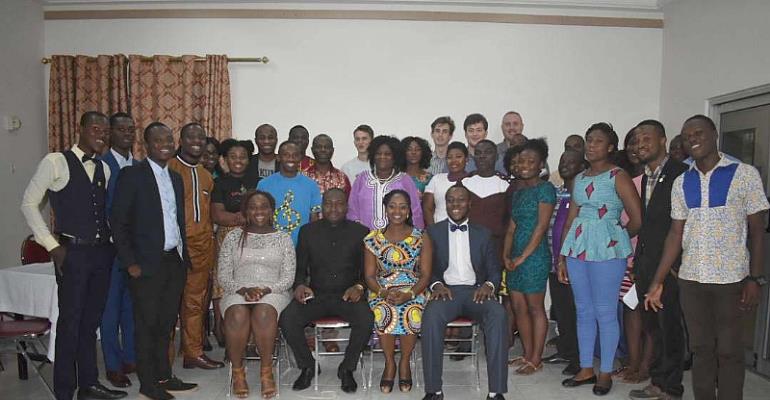 Member so the Ho Hub of the Global Shapers Community and some of their Partners
The Ho hub of the Global Shapers Community of the World Economic Forum has launched a US$10,000 project to provide potable drinking water for some communities in the Adaklu district of the Volta Region.
Although the project will be sited in Adaklu Kpogadzi, it is expected to benefit suburbs like Lomnava, Domekope and Kpovianu and other adjoining communities.
Apart from the over 1500 people expected to benefit from the project, students of the Kpogadzi Salvation Army Basic School will also have a fair share of the water project which will be supplying their school with potable water on a daily basis.
Addressing a dinner in Ho on Saturday to outdoor a new curator for 2017/2018, Tsonam Cleanse Akpeloo, the founding curator of the hub said the project was part of the "Ho Hub Water Project" and was being funded by Coca Cola with its "Shaping a better future" grant.
According to him, the first phase of the project had previously provided the school in the community with a water purification system after it discovered that pupils drank from an unhygienic stagnated pond.
Mr. Akpeloo revealed that the hub, in the second phase would construct boreholes, distribute water storage tanks, and install dispensers as well as strategize a toll system to make the project sustainable.
He said the hub had undertaken many projects which included the "one shoe per child" campaign to provide footwear for children in deprived communities, as well as water purification initiatives.
The Ho hub was started in 2015 to enlist young people and challenge them to channel their resources towards community building.
The outgoing curator of the hub, Mr. Alan Akakpo said the Global Shapers Community gave young people the opportunity to drive the change making process.
He said his focus during his leadership was sustainability and the fourth industrial revolution, and that the Ho hub was working on a number of projects to project the city and the region as a whole.
These included the "Ho Photo walk" (projecting the Volta Region through Photography), the "Young Scientist Rise" (mentoring pupils to appreciate science and technology), and the "Best of Ho" (engaging with achievers in the region to mentor the coming generation).
Frimpomaa Ama Ayim, the incoming curator promised to ensure the continuity of the strategic plans of the hub and would open its doors to more collaborations.
She said her season would concentrate on trade and tourism potentials of the region and would organise a trade fair to that effect.
Mrs Ayim called on banks, non-governmental organisations, and other stakeholders to support their cause in giving Ho the face it deserved in the global community.
From Fred Duodu, Ho ( [email protected] )