17 July 2017
|
Feature Article
Are Ghana Police on Warpath?
...The Ghana Police have bared their teeth amid warning to flush out armed robbers in the West African country. But do they have the logistics to deal with the rogues?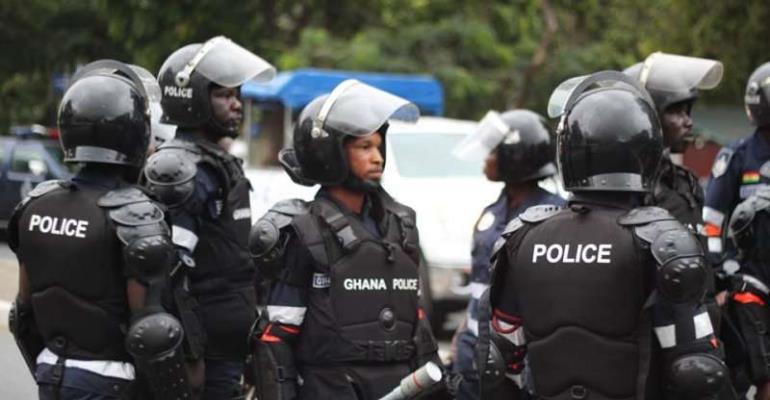 Dogs don't bark for nothing. They do so when they sense danger or feel threatened. Ghana Police Service have issued a stern warning to the country's notorious armed robbers as they prepare to engage them in what the service calls 'Fire for Fire," operation. The Police are seemingly under threat following the rampant killings of its officers by armed robbers in recent times.
On Thursday afternoon July 13, two of its officers were shot in the line of duty by armed robbers at Lapaz , Accra.. One officer died at the scene while the other is in critical condition. The Director General in charge of Police Operations, COP Christian Tetteh Yohuno who issued the threat asked the notorious guys to desist from shooting and killing personnel of the police service.
He said the service was more than combat-ready and would do everything within its power to engage the goons in a brutal battle: "The security services are very much prepared for a "fire for fire" battle, therefore, any criminal who tries to joke with officers, does that at his or her own risk."
We will descend heavily on armed robbers. We have sensitized our men to deal with armed robbers. We have charged our men to deal with any armed robber who tries their patience …..We are prepared for fire for fire", Mr. Tetteh Yohuno cautioned.
According to the Police Chief the continuous murderous attacks on police officers by the gangsters are 'unacceptable' and should be 'discouraged'.
So what's the plan and do the police have the logistics to battle them?
I think they will need the firepower, vehicles and other important communication gadgets to be able to win this battle. And COP Yohuno revealed that going forward it would be necessary for all police personnel on community patrols be allowed to carry side arms so as to gun down robbers who threaten their lives.
Also he hinted that a proposal had been sent to government by the Inspector General of Police (IGP) to procure more logistics so that every policeman will have a protective gadget.
If the number and frequency of police officers killed in the last four years in our country don't send wrong signal then what else would? In 2013, 13 police officers died in the line of duty. The affected officers died in several circumstances, including exchange of fire with armed robbers, motor accidents and stabbing.
According police report the ranks of the officers ranged from Constable to Chief Inspector.
Six of the officers died in motor accidents: two died on their way to effect arrest; while one died during escort duties. It said another died during traffic control duties; and two others in unspecified motor accidents.
The year 2014 saw little reduction in terms of numbers of officers killed. A total of 11 Ghanaian police officers lost their lives in the line of duty across the country in 2014. This is perhaps more than half of the number of officers killed in the whole of the United States same year if you juxtapose that state by state. The National Law Enforcement Officers Memorial Fund, a pro-police nonprofit, released its preliminary 2014 report on officer deaths, which listed the total number of fatalities at 126.
Ghana is about the size of Oregon in the Northwest region. The state ended 2014 without a single law enforcement fatality in the line of duty -----the first time since 2012, according to reports.
Most remarkable noted NBC was 'the number of firearms-related deaths in 2014 (50), which was a 56 percent jump from 2013 (32)'. Traffic-related fatalities (49) was the second-leading cause of death for police an increase from last year (44), when it was the year's leading cause, according to the group's data. NBC added that, despite the increase, 2014's total of 126 is well below the average of 151 for the past decade.
According to preliminary data compiled by the National Law Enforcement Officers Memorial Fund, as of June 30, 2017, 65 federal, state, and local law enforcement officers have died in the line of duty this year, increasing 30 percent over the 50 officers killed during the same period last year.
So the numbers speak for themselves, the police in Ghana aren't safe. It therefore, behooves on all of us as law abiding citizens to help safeguard and maintain the peace and safety in our communities. We should bear in mind that Police officers are not enemies but they're partners in development. And same goes to the law enforcement agents: Treat civilians with much respect and avoid using brutal force on them. Police brutalities have become common in our societies nowadays, and it's about time they viewed civilians as friends and not enemies either. Furthermore, citizens must volunteer information to help make policing less cumbersome. Police alone cannot win the battle against the criminals. Obviously this is not a 'Batman' show—the fictional superhero that appears American comic books. Let's work together to protect one another. We need the police and they also need us.