16 July 2017
|
Press Release
Failure Of NADMO To Provide Necessary Support For Flood Victims In Jomoro Is Unacceptable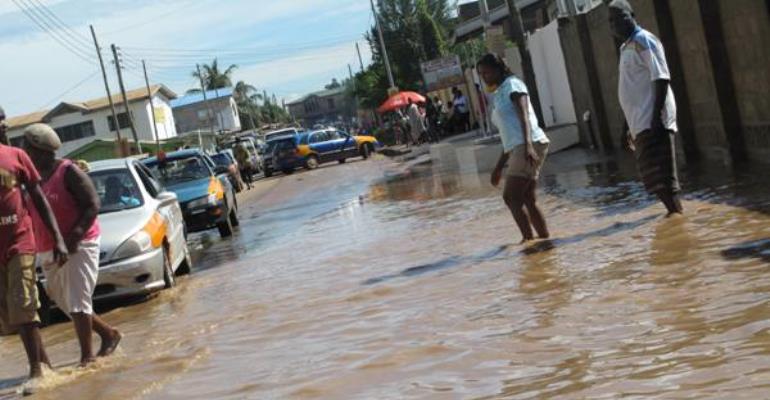 We write to bring to the notice of all media houses, concerned government agencies, non governmental agencies and the general public to express our dismay and displeasure over the inability of the government and NADMO to provide the necessary support for flood affected victims at Jomoro.
The entire Jomoro township was held in dismay on Saturday, 8th July,2017 as floods inundated many communities in the Jomoro district in the western region of Ghana. Places like Nungua, Cocoa town, Nsuo ano, and Elubo were flooded as a result of heavy rains.This led to loss of properties such cooking utensils, mattresses, clothes, monies, and collapse of some buildings as a result of the unprecedented flood disaster.
We are very disappointed and sad that no government agency came to our aid. However we wish to thank the Member of Parliament for Jomoro Constituency, Hon. Paul Essien for his kind gesture and donation to affected flood victims.
The MP for Jomoro gave the affected persons mattresses, cups, buckets and other relevant items. He also promised 2,000 bags of cements which according to him are to be delivered in two days time.
According to the MP, such donations were not coming from any government agency but from his own pocket.
We were surprised that an individual was able to donate such reliefs yet a whole government agency such as the National Disaster Management Organization(NADMO) which is mandated to support and enhance the capacity of society to prevent and manage disasters and to improve the livelihood of the poor and the vulnerable in rural communities through effective disaster management, social mobilization and generation, failed to provide us a single item.
We therefore conclude by saying that NADMO under this current government has been irresponsible and inactive in delivering its mandate for the good people of Ghana and the Jomoro district.
We therefore ask NADMO and concerned state agencies who are mandated to give reliefs and help in such situations to be up and doing to redeem the loss of confidence in them.
Long live Jomoro youths
Long live Jomoro District
Long live Ghana
......Signed.....
Joel S. Ndede *(HON. ARISE)*
(Convenor)
Emmanuel B. Kwame
(Organizer)