The fiscal targets of the current administration requires new and innovative business models in banking that works hand in hand to drive growth and employment without sacrificing shareholder value as a result of systemic risks.
Unfortunately, the traditional approach to banking, though responsive to risks in the business environment, may unavoidably work against the current economic growth agenda, which is create a platform for entrepreneurship to flourish. The current development thinking is structured around agriculture as key growth driver and industry as the engine with strong vertical linkages.
In order for this strategy to be successful medium to long-term credit facilities are needed to fund profitable business propositions in agriculture, agro-processing and related sub-sectors.
Undoubtedly agriculture, energy and export trade are core priorities in Ghana's current growth model. Incidentally market financing is structured more favorably towards sectors like merchandise import, commerce and services (see Fig. 1).
Fig. 1 Sector credit allocation by DMBs


The reasons for this structural misalignment are not far-fetched or course; risk and returns. Corporate boardrooms are bastions of capitalism and not patriotism. Money always go where risks are reasonable and rewards are pleasurable not where sentiments are fashionable and plans are laughable.This is why weak public financial management that throws up perennial fiscal deficits (10.3% in 2016 on commitment basis) will always be money-making opportunities for banks in Ghana.
Data from Bank of Ghana (Banking Sector Report, Vol. 2.2, p. 7) suggests that by April 2017investmentsin T-Bills and Securities constituted 29.4% of the sector's balance sheet (a year-on-year growth of 57.3%) compared to 42.6% forgross advances (representing 16.7% year-on-year growth).
That's what happens when the government is singing treble whilst the banks sing in alto. That being said, there needs to be stakeholder conversation about how to change the paradigm through collaborative efforts directed at mitigating credit risks. This will help grow the loan portfolios of banks.

It's important also to mention that government's commitment to addressing systemic risks is equally crucial in securing the partnership of the banking sector. Three key policy initiatives that may have direct impact on liquidity and asset quality are (1) securitization of energy sector debts (2) national digital addressing system, and (3) the National Identification Project, which are all expected to commence implementation in 2017.
The government's commitment to issue a $2.5 billion bond backed by fiscal flows from energy sector levies, as a way to finance legacy debts in the energy sector has engendered bullish market sentiments. A reliable ID and address system would greatly enhance credit administration, particularly recovery of loans from retail consumers.
In order to achieve the fiscal targets 2017 budget, a strong and adequately capitalized banking sector must be seen as an important partner. As a result it is essential that actors within the banking sector rethink their growth strategies as well.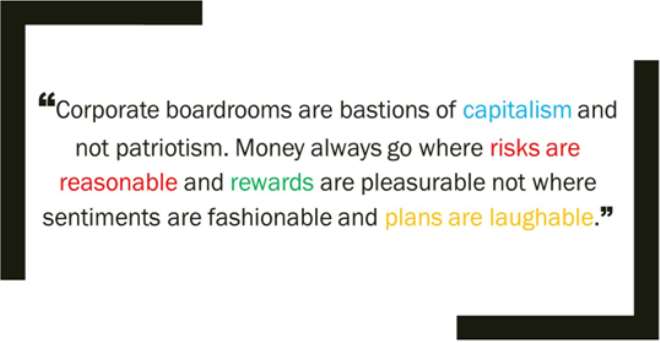 2017-07-16 034317