15 July 2017
|
Regional News
Armah Kofi Buah And Kwasi Bonzo Partnership In Ellembelle Development Will Be Perfect—Peter Ackah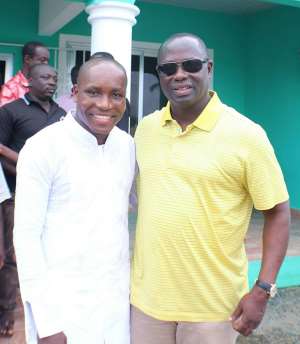 Armah Kofi Buah and Kwasi Bonzo partnership in Ellembelle development will be perfect - Peter Ackah
An outspoken and vocal communicator of the New Patriotic Party (NPP) of Ellembelle Constituency in the Western Region, Mr Peter Ackah, has showered praises on the Assembly Members, Presiding Member, Traditional Rulers, Religious Bodies, Party Members and other stakeholders of Ellembelle for the smooth endorsement given to Mr. Francis Kwasi Bonzoh as DCE for Ellembelle.
Mr Ackah made the pronouncement on Ankobra FM 101.9mhz on Thursday (13/7/2017) morning political show dubbed, 'ABT Show'.
Mr Ackah expressed his profound gratitude to the people of Ellembelle for their patience in the appointment of the DCE Mr Kwasi Bonzoh. He, therefore, called on party supporters to put off their differences in the appointment of Ellembelle DCE and forge ahead to support Mr Kwasi Bonzoh.
The morning show host of Ankobra FM, Mr Michael Adomako interrogated Mr Ackah on the internal brouhaha in the party. Mr Ackah said the party leadership and Mr Kwasi Bonzoh have sat to dispense justice so no more wrangling. Mr Ackah quoted that "After competition there is cooperation" to buttress his point.
Mr Ackah said one of the priorities of Mr Kwasi Bonzoh is to see to it that Esiama-Nkroful-Asasetre roads are constructed. He said, he believe Mr Kwasi Bonzoh as DCE of Ellembelle and Mr Kofi Buah as MP for Ellembelle will call for speedy development and unity in the constituency.
Mr Ackah also added that Mr Kwasi Bonzoh and Mr Armah Buah are family related brothers therefore the need to put heads together to support the youths of Ellembelle.
Mr Ackah said "I strongly believe that these two friends and brothers who are now in charge of Ellembelle Parliamentary office and District Assembly office is a destiny story by God. Armah Kofi is titled as Action Man and Mr Kwasi Bonzoh as Ellembelle David. These two lobbyist will do their best to help Ellembelle to develop"
Mr Ackah also sound a word of caution to the contractors who have left some projects in Ellembelle uncompleted but have taken the money to revisit the sites soon to continue the projects. He said, "Mike, let me use your medium to warn some contractors who have been paid but left the projects uncompleted to resume to work to prevent an embarrassment "
Mr Ackah ended the show by calling on the people of Ellembelle to pray to God for Mr Kofi Buah(Ellembelle MP) and Mr Kwasi Bonzoh (Ellembelle DCE) to grant them long life, unity, peace, understanding, prosperity and wisdom to work together to enhance Ellembelle development.