15 July 2017
|
Press Release
Sydney Casely Hayford, Stop Insulting Us—Be A British If You Want To
United Cadres Front (UCF)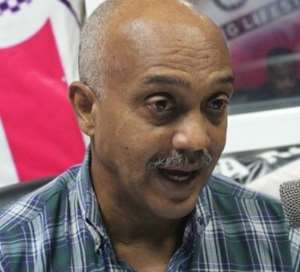 The man called Sydney Casely Hayford must be told in plain language that he either chooses to be Ghanaian or claim British nationality. He has had the penchant over the years since he got this platform on Citi's "BIG ISSUE", to run people who do not share his opnion down and often times engage in naked insults like "STUPID", "IDIOT" and sometimes other disparaging phrases.
The current reference by a Member of Parliament to his uncultured behaviour as raised in Parliament has even made him to insult Ghanaians -further. Listening to him explain himself away in Star-FM news this morning, he sought to JUSTIFY using the word "STUPID" because he is of British ancestry and it is not unsavoury to use such terms.
I personally take it as RACIST remark which must not be taken lightly. Parliament should not allow him go free, because what he has simply told us, based on his explanation is that we are STUPID because we do not understand his language and culture.
If Sydney Casely Hayford, who is about a fourth generation half-caste of British-Ghanaian origin and cannot adopt to the Ghanaian culture, is rather unfortunate. Where does he belong, Britain or Ghana?
As captured in the first paragraph, it has always been his attitude to be seeing himself as a super knowledgeable person who considers persons who share opinions different from his as "STUPID".
Unfortunately the host of the "BIG ISSUE" has done little to sanitize the man's preferred choice of going it rough with people, who are sometimes not present to react to such aspersions. I must thinly admit that on a few occasions, the then host of the show, Mr. Richard Skyy, trys asking him to withdraw such offensive words which he normally succeeds with difficulty.
I am personally glad that his near being hauled before the Legislators has made him eat humble-pie, but rather with another 'look down on people attitude'. Yes, there is Freedom of Speech for us to say whatever we want to say - but it must have the Ghanaian cultural blend.
In the Ghanaian cultural build-up, the word STUUPIID is a heart tearing insult and the man must take it, irrespective of where his ancestory originates.