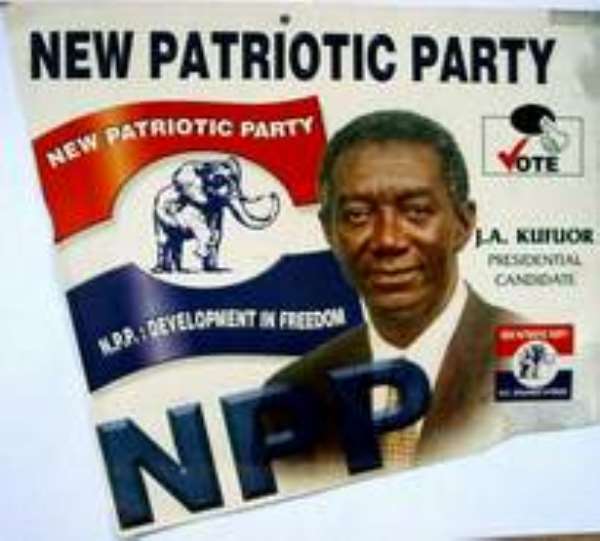 The National Organiser of the New Patriotic Party (NPP), Mr Laud Commey has called on all party supporters across in the country to stand up against the vile propaganda, misinformation and politics of lies and deceit by its political opponents.
He stressed that the NPP was not in crisis, as its detractors wanted to portray to the whole world.
Mr Commey said the party was as solid as a rock and would continue to offer the necessary support to President J.A. Kufuor to ensure that his second term of Positive Change became a tremendous success as it happened during the first four years of his reign.
The National NPP Organiser was addressing NPP executives from the 24 constituencies in the Brong Ahafo Region in Sunyani on Monday, as part of his nationwide tour to thank party members, supporters and foot soldiers for their hard work that enabled the party to retain political power in Election 2004. The meeting that discussed a wide range of issues on the way forward for the party, was also aimed at galvanising the party supporters to remain solidly behind the government towards an overwhelming success in Positive change chapter two.
Mr Commey emphasised that both the President and the NPP were focused and nothing could distract their attention from building a just society.
He stated that to the NPP, the campaign for the 2008 general election had begun and therefore admonished all party loyalists, members and supporters to maximise their mobilisation drive in order to get as many people as possible to join the party.
"We members of the NPP are humble enough to admit that the challenges facing us as a party in government are so huge that it will take sometime to really weather the storm", Mr Commey stressed.
All the constituency executives at the meeting opened up in frank manner by discussing the challenge that faced the party on Chapter Two of Positive Change and the need to reorganise the party to achieve its noble objective. Other speakers at the function included Mr Kwadwo Yeboah-Fordjour, the Regional Chairman of the NPP.