Kapsong Culture Association In Hamburg To Partner Gt. Accra Region For Development In Dangmeland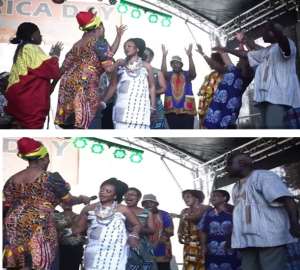 Culture seen as the behaviour, patterns, symbols, institutions, values, and other human made components of the society within a particular group or people can best describe - KAPSONG Culture Association of Hamburg, Germany as Geert Hofstede - Dutch sociologist who proposed a set of indicators defining cultural characteristics of different peoples can be a strong foundation stone and backbone for the newly association to be outdoor in Hamburg come 22nd of July, this year.
The association is willing, prepare and eager to partner the regional administration in Accra as being the political headquarter for Greater Accra in order to maintain a mutual and beneficial development relationship in the areas of education, water and satiation, agriculture, salt management & production and the "syndrome of Greater Accra language" (Ga and Dangme) which at moment is in intensive care unit (ICU) or in a state of animated suspension because of cosmopolitan
KAPSONG Culture Association of Hamburg was establish in the year 2014 in Hamburg, Germany with the aim of promoting and educating GaDangmes culture in the Diaspora especially Germany and also to set as a platform for the domiciled GaDangme mainly from the Dangmeland stretching Ada, Osudoku, Manya Krobo, Yilo Krobo, Shai, Sega, Kpong, Agomenya, Ningo, Odumase-Krobo, Prampram, Kpone, and Dodowa etc to get regular contact, connection and relationship in order to help develop Dangmeland in Gt. Accra of Ghana.
Another major activity KAPSONG Culture Association intend to embark upon is to empower Gadangme communities particularly within the Dangmeland by aiding to education development in the basic school and assisting in minimizing village schools sanitation facilities and more, supporting women in trade activities and liaise and collaborate with opinion leaders and Chiefs & Queen mother's for Beads develpment project, marketing and trading of Bead in Germany as well as initiate a forum or placed promotion in Hamburg with the sole aim of attracting investors to the Dangmeland for Beads trading.
It is the dream of KAPSONG Culture Association to partner Government, NGO's and a number of Municipal & District Assembly to resolve the long awaited water challenges within the rural part of Gadangme land which has bedevil many communities on the side of halting children's education in search of water for the household.
Come 22nd of July, 2017, all eyes will be on KAPSONG Culture Association in Hamburg as they display and showcase pure and traditional culture of Dangmeland in commemoration of their coronation will be another mile stone for Ghanaians in and around Hamburg environs to witness yet another pure, authentic and artistic Ghanaian culture display by KAPSONG Culture Association.
The inauguration of KAPSONG Culture Association in Hamburg has a strong bond and partnership with other organizations and associations such as GLOBUS, IMIC e.V. and Gadangme Community-Hamburg will be one of the foremost events that will be happen in Hamburg this year, marked the day, tell a friend to tell another friend as this inauguration will be one of the best ever cultural program in Hamburg this year at Alter Teichweg 200, 2249, Hamburg.