Sex Scandal rocks Ghana's presidency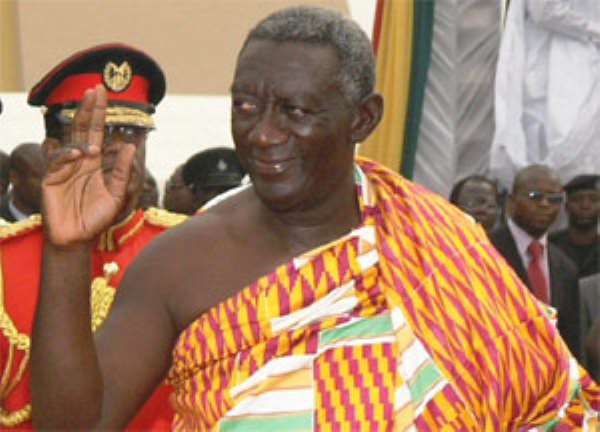 AUDIO: JoyFM's Interview with Gizelle Yajzi & Kwabena Agyepong Accra, May 23 (Joy Online) -- Ghana was thrown into a virtual silence a few minutes after 0900 hrs GMT on Tuesday when Gizelle Yajzi, one time advisor and confidante of President Kufuor told Komla Dumor on JoyFM's nationally syndicated Super Morning Show that she was a sexual partner of President John Agyekum Kufour for about a year. When asked by Komla whether she ever had an intimate relationship with the president, Gizelle who joined by the program by phone responded in a quiet tone 'Yes' adding that the relationship lasted for about a year. Little is known about this woman but it is clear that during her time in Ghana she was a highly influential personality. Highly placed government sources have confirmed her presence in the corridors of power. She told Ghanaians in Tuesday's interview that she has records of phone calls and can also produce recordings of her dealings with the Ghanaian president. Gizelle Yajzi says she was first contacted by one of the president's aides Gabby Nketia to assist the government secure funding for various projects. But her actual job description remains unclear although she insists that she helped the government secure funding and checked over payment for some contracts. What is however clear is that she had direct and unlimited access to John Agyekum Kufour, President of the Republic of Ghana. Gizelle told JoyFM's Komla Dumor that when she has unlimited access to as many nine bodyguards when she arrives in town with her 'twins,' twins rumoured to be the president's children. Rumors have been rife that the President had fathered twins with Ms Yajzi. When asked to verify these rumors she bluntly told Komla Dumor that she would not answer that question because she didn't want to drag her family into this matter. After further probing, Gizelle claimed to possess recordings of both "public and private" interactions she had with the President. Challenged to defend her allegation that she was President Kufuor's mistress, Gizelle said "let me ask you, if any person will go to Ghana and stay in the hotel in La Palm, you think the government will put in nine bodyguards if she is not an important person to the president? Every time I went there (Ghana), the bodyguards were surrounding my twins and I couldn't even walk because of their attention." JoyFM investigations have since revealed that the president's mistress may have stayed at the Royal Suite of La Palm, the most expensive accommodation at the 5-star hotel usually reserved for visiting heads of state.
The Interview Gizelle Yajzi: Let me ask you something, if any person will go to Ghana and stay in the hotel in la Palm, you think the government will put in nine bodyguards if he is not an important person to the president? Every time I went there, the bodyguards were surrounding my twins and I couldn't even walk because of their attention.Kwabena Dumuor: So you had nine bodyguards?GY: Yes, every time I went there. The guards will surround me, my twins and I cannot move around, can't even walk.KD: I need to ask you a direct question about the issue of the twins. Did you have twins for the president?GY: Ok, let me answer the question. First of all, the president … I am not evading the question, I'll answer it. I am going to tell you something. I am not going to involve my children in anything and I am not going to answer the question KD: Do you have two children with the president?GY: Please, I am not going to answer this question.KD: Did you have an intimate relationship with the president?GY: Yes I had.KD: For how long did this relationship go on?GY: For almost a yearKD: Madam Yajzi, you do realize that the allegation you are making is quite serious. Do you have any proof of that? GY: I didn't make allegations, what I did was… I was called about the hotel and I said the truth, yes, if I've to go to court, if I have to go to the parliament, and repeat under oath what I have said I'll do it anytime wherever they want.KD: You made a claim that the president was hiding properties…?GY: (interruption) I'm going to tell you, I'll bring with me every letter, I'll bring with me all my phone bills showing the phone number of the president, but I am sure he is going to change it and I don't know why a person will talk to the president three or four times in a day. KD: What kind of advice were you giving the president? What exactly was your role?GY: It was advising him on many issues…, for example I said it in my first interview that I was looking for some contracts that were signed and they were over-priced. Even I advised him in many… for example to Korle bu hospital, I brought a credit for $20million, it was approved but President Kufuor was too busy to sign it. They came from Kuwait to make him sign and they didn't want to sign. The minister of finance at that time Osafo Maafo didn't sign. He left the people from the Kuwaiti fund to leave for Kuwait without signing the contract, without receiving the money for almost 20 years at 1 percent. KD: There are some who suggest that perhaps you are angry and you have something personal against the president. Has he done anything to compel you to make the current statements that you are making no now… If it is true you had an intimate relationship, wouldn't you keep that quiet? GY: Have you ever heard something about that before? No. To be with President Kufuor, it was for sometime… first of all, I am a very qualified person, I have never been thief. Secondly, to end that relationship, it was me and not Kufuor and third, I don't need Kufour at all for nothing, John Agyekum Kufuor the president, I don't need him at all.KD: Why did you end the relationship?GY: I am going to tell you something. I was married two years ago and I have a very fine husband and I am happy. I am not the type who is angry with somebody because they had some relation, first of all this relation was 100% professional because I helped Ghana, I brought credit to Ghana…KD: (interruption) how did the relationship become an intimate one if it started professionally as you claim?GY: You know, I wasn't in any relationship, wasn't married, I wasn't engaged and it happens. It's normal for somebody who is working for somebody... KD: Well, you were asked about your relationship with the president sometime ago on Radio Gold and you said there was no relationship, why are you now saying there was a relationship? GY: Because I didn't really want to say anything because I respect myself and I am saying now because Mr. Agyepong has said that if I am peeved or upset… No I am not, he is wrong. I even called Adjepong on Saturday and I told him that I am not going to protect the president again…KD: (interruption) why aren't you going to protect him?GY: Because he begged me to protect him before the elections. KD: So you are saying that you called Adjepong a few days ago? GY: Yes, yes!KD: Can you tell us the nature of that conversation?GY: Yes, I called him, I told him that this hotel issue, my name came out and they are looking for me for interview, and this time I am not going to protect the president anymore. I even called the president but I didn't speak with him. KD: What was Agyepong's reaction to your comments? GY: He didn't dare react because he is still reacting, he waited two years to react that I am not the adviser. He's so slow mentally and I hanged up the phone, he cannot talk to me. KD: Do you have any personal motive for not wanting to protect the president, protect him from what?GY: For example, if they ask me whether the president has bought the hotel and I say yes… KD: Why are you talking about this now, when that purchase took place many years ago?GY: Wait a minute, I didn't say anything, the person who said it is somebody in some newspaper and they asked me because my name came up. I didn't say anything because it is not my business. What president Kufuor and his family will do, it doesn't concern me. He can buy, he can sell, he can do whatever he wants and he is the only person who knows whether it is wrong or right. KD: You say you have recordings and documentation that proves everything that you have said this morning?GY: Every moment and every instance because I never trusted president Kufuor, NEVER! And I wanted to see that I wasn't involved in any wrong issue that he has done. KD: Tell us the circumstances under which you started working for the government of Ghana or President Kufuor? How did you hear, how did you meet?GY: I was called because for some reason they knew about me that I am a project adviser… Nketia, Gabby Nketia he called me on behalf of the president. KD: Let me ask you about the allegation that you have twins, John & Phillip. Do they exist? GY: Please, I don't touch my family. I don't put my family in the public arena. This is my problem and not a public problem.