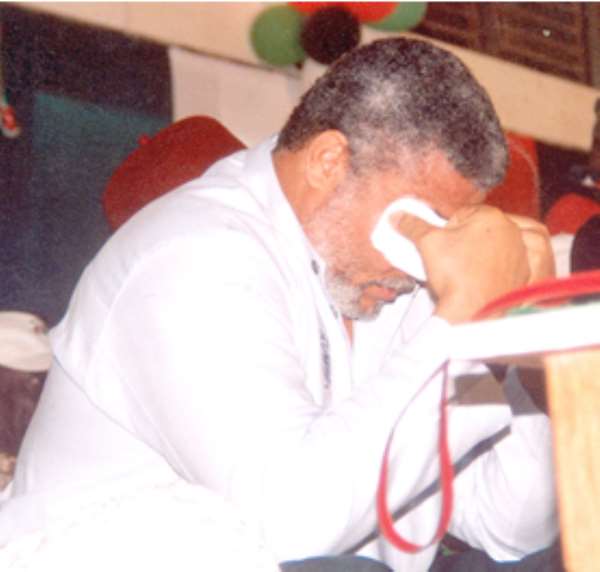 Mrs Lucy Aning, a former Member of Parliament for Bechem in Brong-Ahafo, under the administration of the Convention People's Party (CPP), on Monday, May 23, 2005, blew her top and attacked former President Rawlings, for daring to compare himself to Ghana's First President, Dr Kwame Nkrumah.
Mrs Aning, who now lives in Connecticut, USA, and holidaying in Ghana, called Daily Guide at 6.10pm on the said date, and said: "Kwame Nkrumah was not a crazy person to support bloody Rawlings. He should not associate Nkrumah with his stupid revolution. He must go to Pantang Hospital for a check-up. Not all mad people go naked. This man is mad," she repeated, over and over again, expressing her extreme discomfort and anger.
Mrs Aning said enough is enough for Rawlings, claiming that it is only people "who do not put on their thinking caps who continue to follow Rawlings." She recalled that the CPP ruled Ghana from 1057 to 1966 and so how could the party's leaders be connected to the events of June 4, 1979?
According to her, God has given the former President long life, so that he would find the need to repent; "that is why God has given him long-life," but in so doing, he must not associate himself, nor his ideas, with the great leader Osagyefo Dr. Kwame Nkrumah. "He must go on his knees, and pray to God for forgiveness", she suggested.
Clearly angry and agitated, Mrs. Aning said when Rawlings took over power from Dr Hilla Limann of the People's National Party (PNP), the cedi was rated at 2.75 to the dollar. "But what do we, see today," she charged. "There is indiscipline in the society, because Rawlings encouraged junior officers to rise up against their superiors."
She claimed that Rawlings also sold all the factories, causing unemployment in the country". He sold the Jute Bag and Nsawam Cannery factories, which were built by Kwame Nkrumah," she said, and now takes delight in blaming everyone else, for the situation in the country.
Responding to what he described as outrageous effusions, Dr Edmund Delle, CPP national chairman, said it was unfortunate that such remarks could come from the former president. A furious Dr Delle told Choice FM, an Accra-based radio station, that Dr Nkrumah could not have aligned himself with such heinous and inhuman act of killing three former head of state, and other Generals on the stretch. He said the party leadership will hold an emergency meeting to give an appropriate reaction to the reckless remarks of the former president.
Bod Said, Former Northern Regional organizer of PNP, and a staunch Nkrumaist, dismissed Rawlings' remarks as opportunistic, and asked whether it was not this same Rawlings who remarked in a BBC interview, in 1981, that his happiest moment in the world was when Nkrumah was overthrown in a coup d'etat?