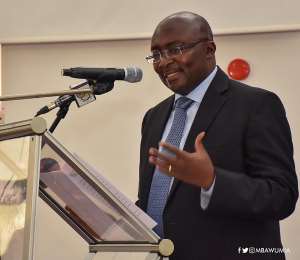 Mr. Chairman, Representatives of the Ministry of Gender, Programme Coordinator for the Disability People's organization of the Netherlands, traditional leaders, invited guests, all protocol observed, ladies and gentlemen.
I would like to express my sincere gratitude to Ghana Federation of Disability Organisations for the invitation to speak at this important career fair. It is indeed a great honor to be here with you today and I thank you for the warm welcome. I would also like to extend greetings from his H.E President Nana Addo Dankwa Akufo-Addo and to reassure you that our Government is ever committed to enhancing inclusive development across the country.
Mr. Chairman, I wish to congratulate the Ghana Federation of Disability Organisations, for yet another successful celebration of the National Day of Disability last week which was marked to commemorate 11 years after the passage of the Disability Act, 2006 (Act 715). God willing, we look forward to celebrating the annual International Day of Disability with you all which is coming up towards the end of the year on December 3rd.
These two celebrations, the National Day of Disability in Ghana and the International Day of Disability are marked to create awareness and sensitize the public about the challenges of living with disability and the need to make provisions to create an inclusive society where persons with disabilities can function effectively and contribute to the development of the nation. There are over 3 million people living with disabilities in Ghana and they are an integral part of our nation's development. Unfortunately, the disabled community in Ghana, and indeed, the world over has been marginalized to a large extent and faces several challenges including discrimination, limited access to public facilities, and lack of equal access to health and educational opportunities as well as unemployment.
One thing that is however clear, and on Monday I visited the Akropong School for the Blind – one thing that is clear when you interact with persons with disability, is the increasing realization that disability is not inability. We have to move away from this notion that disability is inability. The headmistress of the Akropong School for the Blind told me that they won the Spelling Bee Competition in that area, and that shows you clearly that disability is not inability. God compensates us in many different ways, and maybe may not give you eyesight but might give you something much much better. And that ability that you have should be allowed to shine through for all of us to see. They have a wonderful school band and played some of the most wonderful music you can hear. Yes, they are disabled, but they played better music than many able bodied people.
As a nation, if we are thinking about the job market, we have to keep understanding that disability is not inability. That becomes a very important factor for employers. If you are an employer or a potential employer you have to understand that when you employ somebody with a disability it does not mean they cannot do the job or you should not consider employing them because you think they cannot do the job.
Mr. Chairman, the good news is that we as a government are committed to developing a comprehensive inclusive plan and robust interventions for persons with disability. In order to achieve this, there is the need for accurate and reliable data of people living with disability in the country. The National Identification System which is expected to be rolled out this year will enable Government capture accurate data and up-to-date information on persons with disability which will serve as a first step towards the provision of more and accurate support for the community.
Currently, the rate of unemployment among the youth (both abled and those living with disabilities) is high and, President Akuffo Addo's Government is committed to tackling the unemployment rate in the country through various ambitious policies being implemented in agriculture, industry, infrastructure, and so on. Government is committed to creating employment opportunities, ensuring a safe and inclusive society as well as facilitating access to public places by persons with disabilities.
As part of measures to get people with disabilities employed, the Ministry of Roads and Highways is rolling out a system which will ensure the recruitment of persons with disabilities to work as automated toll agents at various toll booths across the country. Once the process is completed, persons with disabilities will constitute not less than 50% of the people employed to operate toll booths across the country. This direct intervention is aimed at helping reduce the unemployment rate among persons with disabilities in order to provide them with a source of livelihood which will in turn break the cycle of poverty facing most people with disabilities in the community.
While this is an important initiative as far as employment within toll booths is concerned, it is not sufficient. What we need is more mainstreaming of persons with disability across both the private and public sector. We need to have a strategy of making sure that persons with disability attain that employment status. Unfortunately if action is not positively taken to ensure the employment of persons with disability, it will not happen.
We have to be honest and proactive on this issue, and a healthy amount of positive discrimination is needed. Without that if we just say let's let the market do it and people do it out of the goodness of their hearts it may not really happen. If we want to build the inclusive society that we should be building as a society as a country, then we should let the laws support positive discrimination in favour of their hiring. At least if we put the Persons with Disability Act into force, we should be moving in that direction.
Mr Chairman, in addition, as a government, we have increased the amount of the District Assemblies Common Fund that is being allocated to persons with disability from 2% to 3%. This is something that has been talked about but has not really been implemented. We are implementing it now.
But more importantly, as we discussed at the Economic Management Team a few weeks ago when we discussed this issue, we understood that when the money gets to the districts, there is a problem of actually moving the money from the Assemblies to the persons with disabilities. And so we need a second intervention. Apart from increasing the amount that is going to the district, we need to operate a system that is like the LEAP (Livelihood Empowerment Against Poverty) system so that we can directly target the persons with disabilities in the district, so rather than wait on the district assemblies to make those transfers – which we are hearing is not happening in many cases – if we register everybody as in LEAP, we can directly transfer those monies directly to persons with disabilities. So we have directed the Ministries to start putting in place the registration of persons with disabilities so that we can follow the same sort of system that is working with the LEAP.
Mr Chairman, we are in the process of implementing a policy requiring that 30% of the allocated 70% of procurements from local businesses will be sourced from entities owned by women, persons with disability, and those established under the Youth Enterprise Fund.
Mr Chairman, Government is further committed to equal employment opportunities and is in the process of implementing policies to ensure that persons with disabilities get equal opportunities to being appointed into public offices. However, to ensure this, there is the need to modernize, improve and resource special training schools for persons with disabilities to be trained for technical and skilled programs..
Mr. Chairman, Government cannot solve the issue of unemployment in our society on its own. This is why the private sector is encouraged to support government to reduce unemployment. I also want to use the opportunity to entreat employers to consider persons with disabilities in job listing as we work towards activating section, 46 of the Labour Act,2003 (Act 651, 2003) which seeks to offer special incentives to employers of people with disabilities. People with disabilities who engage in business or enterprise will also receive special incentives in accordance with the provisions of the Act.
Mr. Chairman, our Government is committed to the amendment of the Disability Act, 2006 (Act 715) to bring it at par with the UN Convention on Disability. Article 27 of the UN Convention on the Rights of Persons with Disabilities focuses on decent employment for people with disabilities, recognizing the right to work, in a labor market that is open, inclusive and accessible. It requires States to promote the realization of that right through-


Prohibition of discrimination;


Protection of just and favourable conditions of work;
Exercise of trade union rights;


Availability of vocational training;


Promotion of employment opportunities and continued advancement;
Promotion of self-employment;


Provision of employment in the public sector;
Promotion of private sector employment through affirmative action, incentives and other measures;
Ensuring the provision of reasonable accommodation or adjustment;
Promotion of work experience in open employment; and
Promotion of rehabilitation and return-to-work programmes.
Mr. Chairman, Government does not wish for the Disability Act, 2006 (Act 715) to just sit there and gather dust on our shelves. Government wants to see it at work in our daily lives, to ensure an inclusive society in which people living with disabilities, who are the world's biggest minority, play an integral role in national development. To this end, besides amendment of the Disability Act, 2006 (Act 715), Government is also committed to passing the appropriate Legislative Instruments for the implementation of the Disability Act, 2006 (Act 715), as well as the Mental Health Act, 2012 (Act 846).
It is a big shame that we have had a Disability Act since 2006 and the Mental Health Act since 2012 and the Legislative Instruments (LI) that are necessary to activate these Acts and get the benefits to the people for whose benefit these Acts were passed have not been promulgated. Our Government by the Grace of God will promulgate these LIs
Dear friends, we can all play a part in the inclusion process. Let's do it now.
Employers, please remember Disability is not Inability.
Thank You