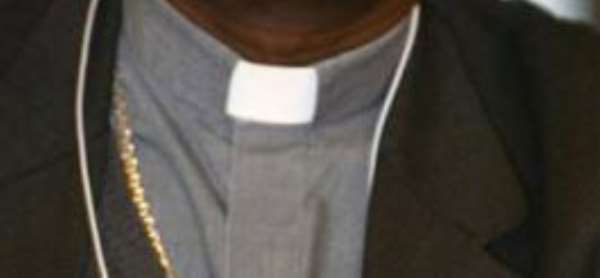 ...AGAINST ANGLICAN BISHOP THOMAS AMPAH BRIENT Trouble is looming in the Sunyani Diocese of the Anglican Church following a litany of allegations levelled against the diocesan bishop, Rt. Rev. Thomas Ampah Brient.
The house of clergy and the wardens have subsequently called for his removal from office.
The two groups have passed a vote of no confidence in the bishop for his alleged involvement in a number of malpractices.
Meanwhile, the bishop has denied the allegations, saying the machinations for his removal are the work of those opposed to his principled position.
He accused two clergymen of the church who contested the position of bishop of the diocese with him for being behind the plot to oust him from office.
The bishop expressed outrage at their behaviour, saying that although those clergymen later realized their mistake and apologized to him, they had teamed up with some citizens of the region to kick him out.
In separate resolutions to the Archbishop of the Province of West Africa/Bishop of Accra, among other personalities of the church, the wardens and the clergymen accused Rt Rev Brient of impropriety, embezzlement of the church's funds, disrespect for the priests and elders of the church and the appointment of a dean from outside the country.
However, Bishop Brient has denied all the allegations, including the one that he had embezzled money, saying that they were calculated to tarnish his reputation.
The resolution from the house of clergy was signed by 16 venerables, Reverend Canons and Reverend Fathers, including Venerables Emmanuel Mensah and Peter Kwadwo Sakyi, Rev. Canon Dominic Apraku, Rev Fathers Henry Donyinah, Robert Num, Peter Donkor, Samuel Amo and Samuel Ohene Gyan.