19 June 2017
|
Editorial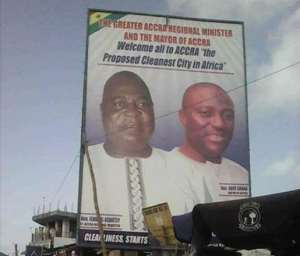 Last week Accra's skyline was on the verge of changing but for a rethink by those behind the efforts. The Kumasi type billboards which Kojo Bonsu erected in vantage points in the Garden City and incurred the wrath of residents of the regional capital were being replicated here.
Pictures of workmen on the already erected structures depicting the images of the Chief Executive Officer of the Accra Metropolitan Assembly (AMA) were being released on social media – the fallouts taking shape when suddenly a standstill order was issued. Eventually the images were removed; the relief on the countenances of ruling party communicators too visible not to be seen.
There is no doubt that the Chief Executive Officer of the AMA and the Greater Accra Regional Minister had okayed the erection of the nauseating structures and their images.
What went into their heads and they decided to stop the project is yet to be ascertained but it could have originated from public opinion and a good counsel from some observers. But for the reversal they would have been put on the public spotlight.
Someone once remarked that politicians hardly learn and we are compelled to endorse the observation. We would have expected such persons to learn from what befell others before them and avoid such pitfalls.
Had the structures stayed, Kojo Bonsu would have smiled and asked whether these persons did not learn some lessons from the follies which eventually cost him his office even before Ghanaians sent NDC packing out of the Flagstaff House.
We wish to use this opportunity to implore politicians that they should be mindful of their actions because Ghanaians are watching every movement of theirs and would not hesitate to react where blunders are committed.
Actions which border on profligacy would especially attract brusque reactions. The billboards which for us could not have been touting anything at this time of their early days in office would have passed for the most unproductive political exercises by the appointees under review.
Even if such structures must be put up, they must be showing the achievements of the appointees so showcased on the public space.
With less than six months in office, we would have been tempted to demand answers as to where funding for the extravagant expenses are originating from.
When the gutters in Accra join their counterparts in others of the world – covered and structures along waterways demolished and floods becoming a thing of the past, we could consider such structures and the accompanying plaudits.
Unless we are being told that the two appointees, the Chief Executive Officer of the AMA and the Greater Accra Regional Minister, were not aware that the structures were being erected without their knowledge, we would ask that they watch it lest they suffer for such avoidable faux pas.