19 June 2017
|
Feature Article
Is His Excellency President Nana Akufo-Addo Not Aware that His Administration is Failing Woefully?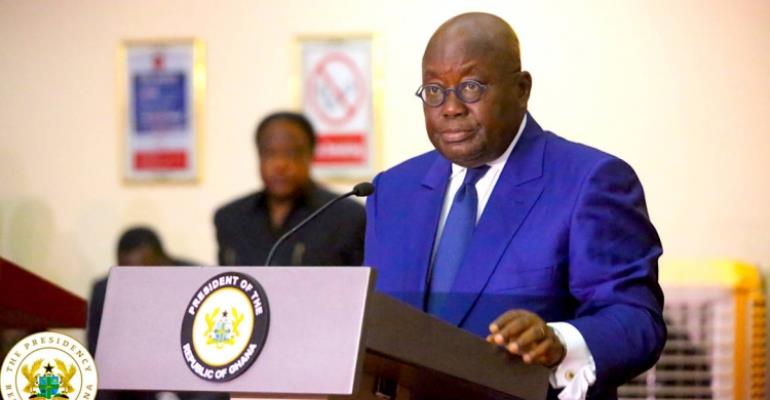 It is with much regret that I have decided to come out so bitterly criticise the ongoing style of governance by His Excellency President Nana Addo Dankwa Akufo-Addo. From what people keep complaining about his infant government with its seeming directionless style of governance that has the potency to exacerbate the suffering of Ghanaians, I have no any other option than to join them in their criticisms of the President, although, constructively.
I should have been the last person to criticise him but what good will it serve him and Ghanaians if we did not point out his short-comings to him for him to change his style of governance for the better? Was I not proudly addressing him as the biblical Joseph, Moses and David of our time? Did I not do that in the belief that God has appointed him to come to liberate Ghanaians from the shackles of socio-economic slavery in which former President Mahama and his Ghanaian version of the "Arabian Ali Baba and his forty thieves" had bound us? From the events unfolding in Ghana on daily basis, could he be said to fulfilling the duties assigned to him by God? Is he by his actions, inactions, commissions and omissions, not rather compounding the already worsened plight of the Ghanaian masses?
If by becoming his enemy for a while through criticisms will make him rectify the ongoing anomalous situation, why shouldn't I? If by chastising him will get him back on the designated tracks originally set before him by God before he unconsciously slid into the tricks of the evil one, thus, the manipulations of the corrupt members of his government, why should I spare him that chance?
Is it not proverbially said, "Spare the rod, and spoil the child?" Again, in 1 Corinthians 9:21-22, do we not have the renowned Apostle Paul say, -"21To those without the Law I became like one without the Law (though I am not outside the law of God but am under the law of Christ), to win those without the Law. 22To the weak I became weak, to win the weak. I have become all things to all men, so that by all possible means I might save some of them". Similarly, if by criticising the President will make him wake up to the duties expected of him by the majority of Ghanaians, why shouldn't I do so?
Let it be known to all Ghanaians one thing that our parents in our various homes do tell us. They admonish us, thus, it is he who loves/likes you that will point out your mistakes to you or correct you when you are doing something wrong. When you are engaged in fisticuffs, the person who likes you will advise you to stop fighting while the one goading you to keep fighting must be perceived as your enemy.
Therefore, those who are pointing out the short-comings of His Excellency the President, Nana Addo Dankwa Akufo-Addo, to him, are indeed his friends. Did Benjamin Franklin not say, "Critics are our friends, they show us our faults?"
I pray that our acclaimed incorruptible President will walk the talk of being a strict person who has aversion for corruption in all its forms and shapes while still championing and upholding the rule of law. As things stand now, he is losing grips of his much touted strictness. Lawlessness in the country, allegations of corruption within his government and perceived backstabbing among government appointees are rife and on the lips of many a Ghanaian.
There is the slightest truth in every rumour hence I cannot write off all those complaining bitterly about the seeming ineffectiveness of the President to translate his strict words into action. Although the President has been in office barely five months, it is more than sufficient length of time for Ghanaians to have started feeling his quality of firmness, fairness and friendliness.
Yes, so far we've seen the President showing his fairness by insisting on the prevalence of the rule of law. He is not personally interfering in court cases to favour anyone but allowing the courts to do their own job. He believes in the separation of powers. This I can confirm to be a credit to him. However, are the courts doing the right thing with all the unnecessary adjournments of cases on daily basis? Who has to make sure that all institutions do function the way they should? Who will be blamed when things begin to fall apart in the country with the centre not holding? Is it not the President?
Yes, the President has been seen to be friendly even though his work schedule and security requirements militate against his desire to interact with lots of people. What is lacking conspicuously is his firmness that is yet to be translated into vivid practicality.
Some of the President's appointees could well be said to be square pegs wobbling in round holes. Some of them may be misfits in their roles. They may not only lack the competence to handle the job but also, may clearly be morally deficient hence the susceptibility to corrupting themselves.
The Chief of Staff, Mrs Frema, mandated a task force to retrieve government cars presumed to have been stolen by members of former President Mahama's government and their cronies. In what may constitute utter disrespect for her if not an undermining of her authority, some yet unknown presidential staffers at the Flagstaff House have secretly been releasing the cars back to their "owners" without the knowledge of the Chief of Staff.
The failure by the President to discipline or sack the presidential staffers showing such unethical practice that defies conventional wisdom, will amount to weakness on his part if indeed the Chief of Staff ordered the confiscation of the vehicles.
Serious governments worth their salt do not take decisions based on emotions. Once a decision is taken, it may be hard to quickly go back to reverse it without suffering attendant adverse repercussions. All decisions except in events of national catastrophe, natural disaster, major accidents/incidents etc., must be well-thought through before making.
Yes, the gruesome murder of Major (Captain) Maxwell Adams Mahama was heartrending. Nobody in their right senses will condone such act. The perpetrators of that heinous crime if properly identified must face the full rigours of the laws. However, the knee-jerk resolution to create a foundation for him, accord him a State burial etc., at the expense of other security colleagues suffered death in performing their duties to the State while in uniform, amounts to favouritism if not discrimination.
When the dust settles with emotions ebbed, I shall entreat the President to set up a public inquiry into why Major Mahama met his untimely death at Denkyira-Obuase. Who sent him there? When did he go there? What was he doing there etc.? Was he sent there to stop or to protect some galamseyers (illegal surface miners)? How often had he gone there?
Let me please emphasise to the President that in the execution of his mandate as conferred on him by the people of Ghana through election 2016, no soldiers can stage any coup d'état against him and his government. The ongoing world or West African order will not permit it. Any soldiers that stage a successful coup will be forcefully removed from power. Therefore, the President must be bold to take right decisions at the right time without feeling threatened.
The only force that can square up to him and his government is civil revolution or agitation. As Ghanaians are beginning to know their rights through the understanding of the dynamics of politics, they are ready to hold our politicians and other service heads accountable for their actions. We shall not sit down for the politicians to take us for fools, squandering Ghana's money as if the money was theirs but not the Ghanaian taxpayers'.
When we talk about the types of leadership e.g. democrat, dictator and laissez faire, elements of the three can at any given time surface in any of the types of leadership one chooses to practise. Subsequently, I shall advise the President to put his foot down to take certain tough decisions that he deems can make his government deliver to the expectations of Ghanaians. He should not wait for any dithering institutions or persons.
Ghanaians are difficult so they should not always be treated with kid's gloves. Corruption has almost become part and parcel of the Ghanaian with government appointees always being the principal masterminds and perpetrators. With this in mind, the President must be strict on his appointees and should not hesitate a second to sack any of them found to engage in corrupt practices if indeed he wants to succeed as an enviable President come to make Ghanaians proud.
He should not be like former President Kufuor who retorted thus, "corruption dates as far back as Adam and Eve" when questioned about whether or not his government was riddled with graft. His answer went to confirm his inability to fight then corruption in his government and might even go further to conclude that he was himself not clean of corruption.
I hope the Council of State will advise the President to muster courage to deal ruthlessly with any of his appointees found engaging in any slightest act of corruption. This is the only way he can succeed to glorify God.
If I have become an enemy for telling the truth through constructive criticism, so be it! Time is running out for the President to show his mettle.
Rockson Adofo
(Written on Saturday, 17 June 2017)