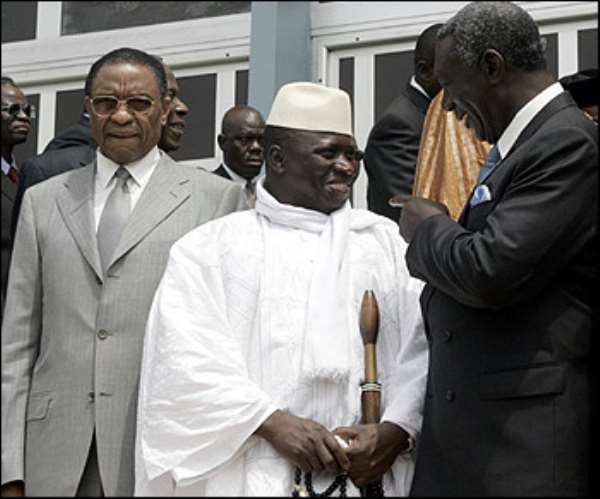 Banjul, Gambia, May 20, GNA - The Ghanaian Community in The Gambia is yearning for Police protection ahead of the final match between Ghana and Gambia in the Sixth Africa Under-17 Championship on Sunday, May 22, in the Gambia.
This is because the community has been under constant threat and intimidation, degenerating into minor attacks at some instances, since the Black Starlets defeated their Gambian counterparts at the group stage of the competition.
According to information reaching the GNA Sports, The Ghanaian community domiciled in a town called "Ghana Town" in Brufuit, with majority of them engaged in fishing, have not known peace since the lone goal victory over the host nation, as there have been attacks and provocations from sections of the youth of Brufuit.
When the GNA Sports visited the town on Friday, most of the inhabitants had gone fishing whilst, the chief of the town Alhaji Sumaila Abandoh was reported to be in peace talks with opinion leaders of the town.
Alhaji Abandoh, according to his wife was going to meet the Islamic leaders as well as other opinion leaders to discuss how best to educate the youth of the town to desist from negative acts, as well as seeking police protection for the Ghanaians on the day of the match.
Though, the GNA Sports could not reach him for a statement, a resident of "Ghana Town" Musa Manso, a 33 year old Ghanaian fisher man who has been leaving in The Gambia for the past eight years said they had been living in a state of fear since the match was played. He said due to the attacks and threats, most of them were afraid to go to the stadium to watch the final match.
Mr Manso said their leaders would also discuss how best to protect them both at the stadium and in their homes before, during and after the match.
He said there could have been much trouble if they had reacted to the provocations of the Gambians after their match against the Starlets. Mr Manso revealed that there were some minor attacks even after the 2-0 victory over Cote D'Ivoire in the semi final match.
Ghana is scheduled to play The Gambia on Sunday, in the finals of the championship.
While Ghana seeks to win the cup for keeps, the Gambians will be attempting to wrestle their first ever continental trophy.