17 June 2017
|
Regional News
Ghanaian Students Get Support To Compete With China And Korea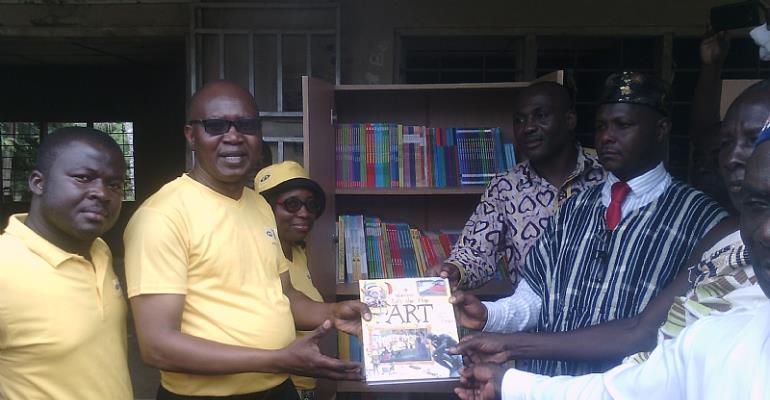 "Brodekwano" M/A primary school in the Bosomtwe district of the Ashanti region has been supported with hundreds of text and library books from MTN yello care.
The donation forms part of the company's social responsibility, to aid the Ghanaian students in deprived communities compete with their colleague's in urban and international students across globe.
The 21 days of yello care is an annaul staff volunteer programme that runs across the MTN group from 1st to 21st June, instituted 10 years ago.
As part of the activity the staff of MTN led the pupils in various stages through a learning process for about an hour.
Speaking at the presentation MTN general manager northern sector, Mr. James Bukarin Basintale indicated, the yellow care gives the staff opportunity to brighten lives via selected themes to drive the activities of which "Investing In Education For All" have been on focus for the past five years.
Mr. Bukari noted that, the important aspect of the theme is its focus on education driven by technology.
He said, the books is to resource student read international standard materials to enable them compete with global students in countries such as China, Turkey, Korea, German, among others.
With rapid advances in technology and increase in digitization, Mr. Bukari is optimistic "fusing technology into the educational system can help bridge the development gap and extend educational opportunities to students in undeserved communities".
He hinted that, "the increasing demand for new educational approaches and pedagogies that foster transformative and livelong learning and the orientation of educational curriculum to address sustainable development are major forces shaping and driving education in the 21st century.
He charged teachers and heads of various schools to offer their best to unearth the hidden potentials of the students.
Speaking on behalf of the chief of the area, the Nana Kwaku Appiah-Adu applauded MTN for such a kind gesture, and appealed to the company to support increase the existing computers which are not enough for the students.
He urged other cooperate entities, individuals and NGOs to emulate same.