NYA Meets Commonwealth Alliance Of Young Entrepreneurs-West Africa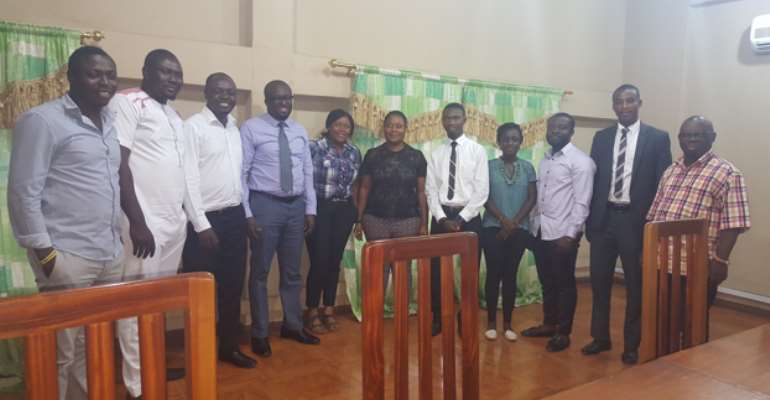 The CEO of National Youth Authority Mr.Emmanuel Sin-nyet Asigri yesterday met with the leadership of the CAYE-GH chapter to see possible ways of collaborations between the two firms towards promoting and empowering young entrepreneurs in Ghana.
The CEO is his welcome address said, his team is well poised for action and with their upcoming programs plus the good plans of this government towards youth, He is optimistic that many good things will come the way of the Ghanaian youth. "Let us put all hands on deck to help the government solve the many issues confronting young people in Ghana" he observed.
He advised young people not to only claim the title entrepreneurs but to setup viable businesses that will solve the wide range of issues confronting the nation. "We can do this by sharing ideas and creating business partnerships."
He charge the leadership to do all within their best to make sure Ghana shines within the west African sub region since Ghana was currently the headquarters for the west Africa movement. "With the unflinching support of my minister(ministry for youth and sports) we will support this call and do our possible best to promote CAYE GH chapter."
CAYE-GH which is a subsidiary of Commonwealth Alliance of Young Entrepreneurs-West Africa (CAYE-WA) was launched here in Ghana on 24th March, 2017 by the commonwealth secretariat to strengthen and support the ambitions of young entrepreneurs in Commonwealth regions. These regional networks ensure they have a combined voice and representation at forums to influence policy development on youth entrepreneurship.
The West African Regional chapter which was the last to be formed seeks to champion the cause of young entrepreneurs at the national and regional level, through its engagement with governments, the media, the public, and other relevant stakeholders. It will commit to achieving measurable progress towards the development of youth entrepreneurship and innovation within West African sub region.
CAYE-GH currently has 5 member organizations under its network. Each member organization has an average membership population of over 3000 members.
The national coordinator (Mr. Sherif Ghali) took the CEO and his team through the state of CAYE-GH chapter and unveils the program of activities for the rest of the year. He said, " CAYE GH will be organizing it first summit this August,2017 which will be followed up by a breakfast meeting with the President and then we will climax the year with the national young entrepreneurs awards program."
He call on the CEO to use his good office to create the needed network for the young entrepreneurs and assist the movement in creating strategic partnership with Government agencies, embassies and the cooperate world.