Footballer Killer Arrested
News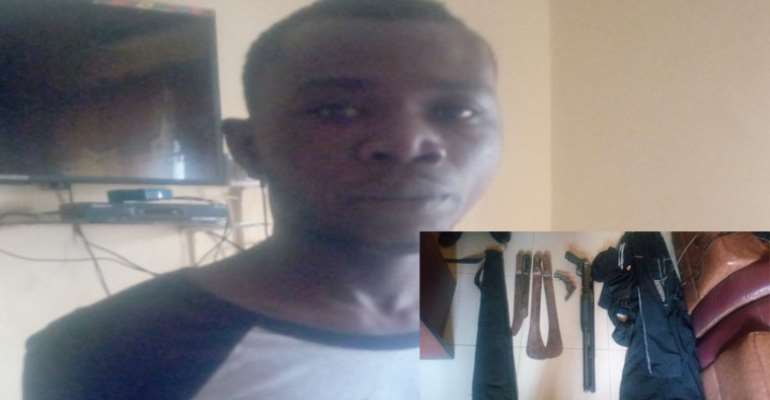 Nii Yartey, who was part of the gang that allegedly attacked and killed 27-year-old Abubarkar Sadiq Adam, who contested in the last edition of MTN Football Challenge, at his residence during a robbery operation at Peace Town, near Kasoa, has been arrested.
The suspect, leader of the gang, went into hiding after committing the crime, but the police, through intelligence, apprehended him from his hideout that same evening at Kasoa.
The pump action gun he was wielding, as well as, two locally manufactured pistols and four machetes were also retrieved.
The Kasoa District Police Commander, Superintendent Stephen Ahiatafu told DAILY GUIDE that Yartey, 26, together with two others on Saturday, June 10, 2017, went on a robbery spree in some parts of Kasoa, including Peace Town and Kasoa CP.
Information gathered indicated that around 4am, police had a report that three armed robbers wearing black Jalabia dress and wielding pump action gun had attacked some residents of Kasoa CP.
Police personnel were sent to the scene but hours later, the police received information that the three had moved to Peace Town to kill the footballer.
When the police got to the scene around 6:40am, they discovered the deceased Abubakar Sadiq Adam, 27, lying in a pool of blood.
The body was taken to the police hospital morgue for autopsy.
Investigations revealed that the three armed robbers, after robbing residents of CP of their unspecified amounts of money, television set, speakers and other valuables, moved from house to house at Peace Town to rob residents as well.
An eyewitness account indicated that the deceased was earlier seen performing his dawn prayers at 2am before his demise.
The armed robbers entered the room of a couple, grabbed the baby and threatened to divide her into two if the parents do not give him money.
The fear-stricken father searched his pockets and found only GH¢15 and handed it over to the armed robbers to save his baby's life.
The eyewitness said the armed robbers left the baby on the floor and moved to the next room to kill the footballer.
Suspect's Confession
Yartey, who is an ex-convict, upon his arrest, pleaded for mercy.
He told the police that the deceased wanted to disarm one of his men, compelling him (suspect) to shoot the victim, who was then praying when they entered the room.
The District Police Commander said police investigations revealed that the suspect shot the deceased in the abdomen at close range.
( [email protected] )
By Linda Tenyah-Ayettey