The Real Lynching Occurred a Day Before Captain Mahama Was Lynched
Opinion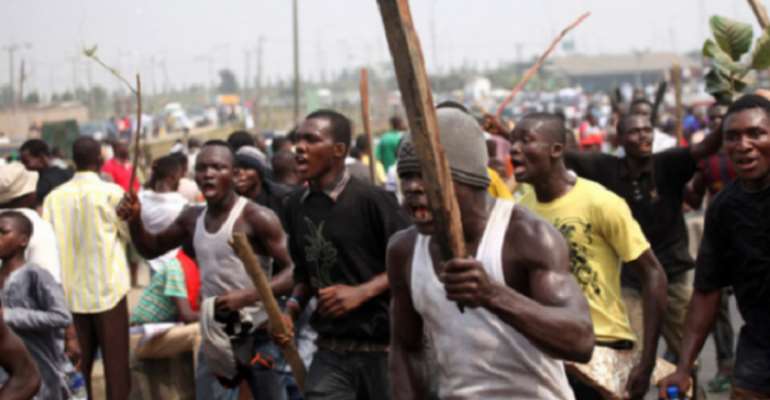 Yes, the real, stereotypical lynching occurred scarcely 24 hours before Capt. Maxwell Adam Mahama met his proverbial Maker on Monday, May 29, 2017. But, of course as that decidedly cynical and farcical Ghanaian maxim goes, "The blood of Madam Yenboka Kenna was one of those silent and morbidly docile bloods that simply went with the flow" (See "5 Remanded for Lynching Alleged Witch" Ghanaian Chronicle / Modernghana.com 6/14/17). It did not speak, because the savagely spilled blood of Madam Yenboka Kenna was that of an ordinary "Nobody Ghanaian Citizen." But, of course, the largely ignored victim of lynching from Pelungu, in the Nabdam District of the Upper-East Region, was very well known to Divine Providence.
It did not capture and dominate the banner news headlines because this mother of 4 adult children was neither the sister nor cousin of a sitting or former President of our Republic. She was just somebody who remotely and barely existed in the cobweb-tangled corners of the most boondocky recesses of our collective imagination or unconscious, in the language of psychologists. Anyway, we are told by at least one news reporter that the soon-to-be lynched hardworking woman had attended to her business that day at the Pelungu market, where she either owned or rented a shed. And then just as she was winding down business for that day and about to head home for some well-needed rest and refreshment for her body and soul – and oh, yes, Madam Yenboka Kenna had a sprightly human soul - in preparation for the same business routine the next day – her would-be assailants swarmed her shed, labeled her a witch and literally dragged her to the palace of the Chief of Pelungu to solicit his official blessing and definitive pronouncement that, indeed, Madam Yenboka Kenna was a witch who deserved to be summarily executed by stoning, which was precisely what the Pelungu townsfolk did to her.
Well, at the unnamed Pelungu chief's palace, or whatever hulking structure passed for a palace, the soon-to-be lynch victim was interrogated for how long, we are not told. But however long it took, the interrogation came to an end at some point before nightfall, like echoes of that globally renowned and celebrated Apartheid-era poetic classic, "Sunset in Soweto," by Dr. Oswald Mbuyiseni Mtshali, sunset on May 28, my deceased mother's 83rd birthday anniversary, came with jackboots and jackknives and any imaginable weapons of death, including stones and cudgels and machetes, for the most part. And perhaps, as was the equally tragic case of Capt. Mahama, nephew of former President John Dramani Mahama, there might have been included among the lethal arsenal a roughhewn gun or two.
We are heart-wrenchingly informed that against the foresighted and better judgment of two of the victim's brothers, who had followed the mob into the unnamed Pelungu chief's palace, and who had pleaded for their sister to be afforded shelter and refuge overnight, Chief Pelungu callously refused and instead ordered these two brothers to take their "Witch-Burden" out of his palace. Predictably, Madam Yenboka Kenna would be torn away by the bloodthirsty lynch-mob and be found the next day, somewhere in town, mercilessly battered senseless to death.
Now, we don't know precisely what transpired at Chief Pelungu's palace, because the reporter of the story whose title is referenced above, does not provide readers with any hints about the contents of the inquisition. But, of course, it is quite obvious from the flat refusal of Chief Pelungu to provide overnight refuge to the soon-to-be fatally victimized woman that the die had already been cast and the results vehemently and immutably decided against Madam Yenboka Kenna. Life must be a tragicomic farce, at least in Camusian parlance. But, you see, dear reader, the part I simply don't and can't understand, and miserably fail to understand, is why the Nabdam District Police would have 63 lynch-mob suspects promptly arrested and pared down to just 5 prime suspects, but with Chief Pelungu's name absolutely nowhere to be found among the bloody list of the prime suspects in the brutal murder of Madam Yenboka Kenna.
What sort of condign justice are we to expect from the Nabdam District police personnel? President Addo Dankwa Akufo-Addo and his Interior Minister, Mr. Ambrose Dery, need to make an official public pronouncement on this tragic farce of the most heinous order at some point within the next couple of weeks or less. Ghana eerily appears to be fast becoming too dangerous and ungovernable for comfort. But it also significantly bears pointing out that this has been the bleak existential reality for quite some time now.
Alas, when former First Lady Lordina Mahama had the prime opportunity to make women's rights advocates and activists in the country proud, not only did Mrs. Mahama dishearteningly fritter away such memorable and golden opportunity, she actually reinforced such patent cultural savagery by having a "Witch Village" established somewhere Up-North. And we are bizarrely and morbidly given to believe that the Mahamas are foremost among the vanguard ranks of the most progressive Ghanaian leaders!
*Visit my blog at: kwameokoampaahoofe.wordpress.com Ghanaffairs
By Kwame Okoampa-Ahoofe, Jr., Ph.D.
English Department, SUNY-Nassau
Garden City, New York
June 15, 2017
E-mail: [email protected]