Killing The Galamsey Snake-Cut Off It Head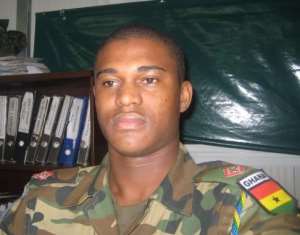 Major Maxwell Adam Mahama one of the national hero helping to kill Galamsey Snake.
More effort is now needed to fight against Galamsey menace incessantly in order to win the battle by cutting off it head as King David did to win his battle to Goliath who was instigating treats on Israelites as Galamsey is threatening our lands and water bodies.
As we are aware the snake does not move straight, so it is the movement of Galamsey snake which does not have negative impacts on one area alone but moves in meandering directions to degraded thousand hectares of Ghana's arable lands, vegetation, species of animals so it is that our rivers have also equally been polluted, notably river Pra, Tano, Ankobra and Birim and many smaller rivers among other negative effects.
This snake has been with us for very long time and has now grown in size with more venom that has been injected into our drinkable rivers to turned into undrinkable, on our arable lands not be able to sustain the crops to yield it fruits. This demands more attention, effort, unity, perseverance, patriotism, continuity to ends it actions once and for all.
The reason has been that Governments have come and gone in this country but the problem of Galamsey continues to be escalated, because of lack of political will to kill that snake and cut off it head.
One thing we should not forget is that the more this menace continues to stay with us, the higher it put harm to our environment.
Therefore, now that political will has given approval to eradicate this menace, we should all put our political colures aside and merge as one broom to sweep out this unwanted national canker to save the environment for now and future generations.
Let us rise, be bold to support fight against Galamsey as our leader has encouraged that "my government would not rest until Galamsey becomes a thing of the past in the country".
He also insisted that his administration would not allow mining to compromise the future of the country, "compromise our environment, destroy and pollute our water bodies. If we do that, we will wake up tomorrow with no country to live in."
Less not forget, since the media coalition sported this snake called Galamsey in Ghana's paradise, it is now behaving like the old serpent.
To the extent that in a process to beat it with a stick and cut of it head, the snake hided at Denkyira Obuasi in the central region, where national security personnel Captain Maxwell Adam Mahama through his contribution to fight against the menace; met his gruesome death which has been entirely condemned by all Ghanaians.
Ghanaians should not be discourage in fighting against this menace though our beloved Major Mahama's lynching was extremely painful, unforgettable, disheartening but what can we do to deter the venom not to spread to far and wide as now encompassing to Ghana's sea and tourism.
These came to light when group of journalists touring eight landing sites as part of a capacity-building programme sponsored by (USAID) and the University of Cape Coast Fisheries and Coastal Management Capacity-Building Support Project.
According the report, Shamma bay and part of the sea water has become muddy that is colored, unclear, making it unmanageable for the fishes to survive in the water.
The Chief Fisherman, Nana Enubasa said that the water from the estuary used to be fresh and clean and served as a source of drinking water, "now you cannot drink this water anymore". Further, claimed that certain species, especially the smaller fishes, had become nonexistent. "We no longer get them and as a result, it has even affected the catch for big fishes which fed on the smaller species".
The report further read that "tourists who used to visit the area regularly due to the clean beaches and estuary no longer found the area attractive any more".
They protested that "We don't do Galamsey here but when the estuary overflows, due to the operations of the illegal mining activities around River Pra in the upstream region, we at the downstream region suffer the consequences," it means that as snake bite from the down, the venom moves upward and vice versa, so it is the acts of Galamsey activities in the country.
Already, Ghana has a deficit in fish production while fish consumption hovers around one million tonnes annually; only 400,000 tonnes is produced locally. This means that about 600,000 metric tonnes of fish is imported annually to fill the gap.
An official figure has also indicated that Ghana spends between $300,000 and $400,000 on fish imports annually and when this adds to our import bill, it negatively affects our economic development as a country that is why we need to pay attention to everything that pollute our sea and rivers.
We should all be courageous to confidently participate in this fight in incessant manner without rest and at the end Ghana will defiantly win the battle; irrespective of some setbacks as
Atticus Finch a lawyer once said "I wanted you to see what real courage is, instead of getting the idea that courage is a man with a gun in his hand. It's when you know you're licked before you begin, but you begin anyway and see it through no matter what".
By: Abraham Frank Eshun
Journalist and communication consultant
[email protected]