Trapped in Agadez, but Europe mirage still dazzles
Africa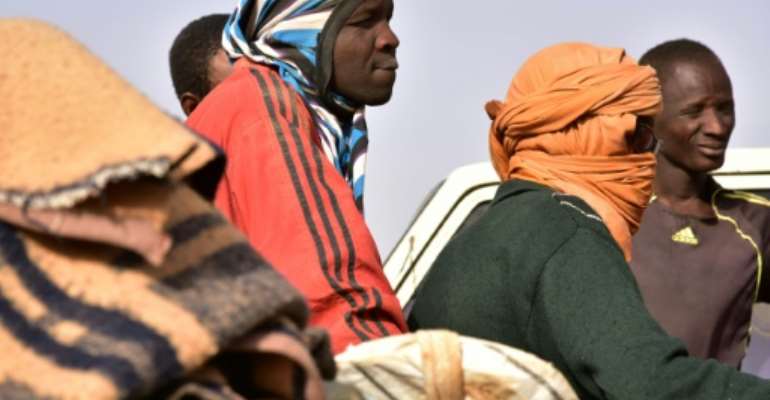 Agadez (Niger) (AFP) - "I'm prepared to die," says Abdullah Ibrahim, a 27-year-old migrant from The Gambia.
"I want to go to Germany, I love Germany since I'm young. I hope my dream will come true."
For the time being, that dream is on hold after a first attempt negotiating the dangers of the desert, then armed militias in Libya to reach the Mediterranean.
But he failed to find passage on a vessel to Europe and has returned to the central Niger city of Agadez, currently Africa's people-smuggling capital.
Undaunted, he plans to try again, but his frustration is evident as he contemplates his situation, a black hood crammed so low on his head that it almost covers his eyes.
He shares a house with several compatriots on the outskirts of Agadez, where they live in fear of the police who hunt down migrants such as them living in so-called "ghettos".
They make do with ultra-basic facilities -- a simple mat for a bed, a handful of kitchen utensils, with what few clothes they possess rolled into a bundle.
They have neither electricity nor running water and must put up with incessant swirling hot, dusty winds.
Fear of the desert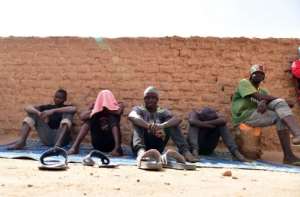 Conditions are ultra-basic for migrants staying in "ghettos" in Agadez, Africa's people smuggling capital
"Here in Agadez it's pain. I am a Muslim: even to pray I have to pay, for water to clean myself," says Ibrahim, who has no money.
A bricklayer by trade, he says he helped to build a house in the city but that the owner never paid him.
He hopes he will get paid for his services eventually and then he can plot another departure, even though the first was an ordeal.
The desert, he says, makes him very afraid.
"The desert is hard. You see people dying, some (for) lack of energy, some (because) their water is finished. I even saw my friend dying," he says.
"Some escape -- they are in Europe, some escape and go to Tripoli." Others, he says, escape and go back home.
The Libyan border is a 750-kilometre (465-mile) trip from Agadez. The coast is twice as far again.
'No money, no boat'
Plenty don't make it. The bodies of at least 44 migrants, some of them babies, were found after they died of thirst when their vehicle broke down in the scorching Sahara desert in northern Niger, officials said in early June.
"The desert is full of bodies of migrants," said Niger's Interior Minister Mohamed Bazoum.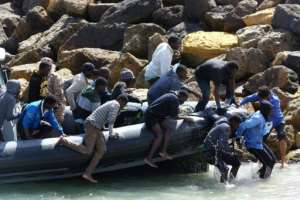 Migrants making it as far as Libya try their luck with perilous voyages across the Mediterranean
If the desert poses one deadly challenge, Libya poses another.
"The desert is... full of revolution. There are guns everywhere," says Ibrahim, who managed to avoid the violent perils which befell so many others who have headed for Libya since the 2011 fall of late dictator Moamer Kadhafi.
After successfully crossing the desert, he made it to the coast and began looking for a boat.
"We spent lots of time (waiting but we had) no money, no boat so the (trafficker) decides to drive us back," he shrugs.
But he remains undaunted by the experience and intends to hit the migrant trail again.
"I still want to go."
No work in Africa
"The problem is that youth (in Africa) has no jobs. Thousands of youths try to take this road to go to Europe.
"Since you are born, you don't see nothing, no work. If I had something good here, I could develop my life, I would not go to Europe.
"Normally, today (is when) you build tomorrow. But in Africa, you can't build anything -- a family, not even a bed for a room," he says, "(so) how can I have a wife?"
Despite the hardships of the journey, he remains dazzled by stories of friends who managed to reach Europe and send money back home and by images of the European El Dorado visible online.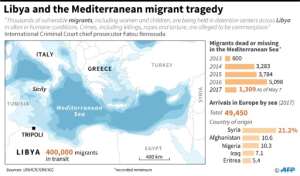 Map showing the migrant crisis as thousands seek to make perilous sea crossings from Libya to Europe
For Ibrahim, there is no going back home.
"My family? I miss them, they don't know my whereabouts. I left my family without telling them.
"I gathered my things and said I was going to see a friend. I knew my mother would say 'don't go'.
"Since before I was born, my parents have been suffering. Now I'm a big and I have to do something for them," says Ibrahim.
"You have to sacrifice your life for your brothers and sisters. Every human being will die. One day, all of us will end up going."