5 Remanded For Lynching Alleged Witch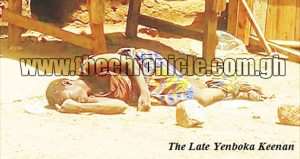 Five suspects, arrested in connection with the lynching of a 67-old woman at Pelungu in the Nabdam District of the Upper East Region, were on Tuesday, remanded into police custody, after their first appearance at the Bolgatanga Magistrate Court.
The five were among 63 persons the police rounded up at the Tindongo and Pelungu communities on Saturday.
After screening all the suspects on Monday, June 12, the police released 58 of them. The remaining five were processed for court on charges of murder and conspiracy to murder.
The Prosecutor, Inspector Boateng Addae, told the court, presided over by his Worship Osman Abdul-Hakeem, that on May 28, 2017, the deceased, Yenboka Kenna, a mother of 4, aged 67, went to the Pelungu market to transact business in her shed.
While there, her attackers went to her at about 5:00pm and accused her of being a witch and subsequently took her to the Chief of Pelungu and his elders, where she was interrogated.
In the course of the interrogation, word went round the town, and a large crowd gathered at the chief's palace, including two brothers of the deceased.
After her interrogation, the Chief asked the brothers of the deceased to take her home. The brothers pleaded with the Chief to allow her pass the night at his palace, because of the behaviour of the irate crowd, which was eager to attack her.
Inspector Addae said the Chief told the brothers that his palace was not a witch camp, and so released her into their custody.
However, the accusers of the deceased whisked her to an unknown location and lynched her. She was found dead the following day, with multiple injuries all over her body.
After presenting the facts, the Prosecutor prayed the court to remand the suspects into police custody, to enable the police ample time to investigate the case thoroughly.
Counsel for the accused persons, Mr Anthony Namoo, pleaded with the court to grant one of the suspects bail, on condition of ill health, but the request was rejected by the Prosecutor, who argued that such a decision would jeopardise their investigations.
After listening to both sides, the Judge, His Worship Abdul-Hakeem, remanded all the five into police custody to reappear on June 28, 2017.
From William Nlanjerbor Jalulah, Bolgatanga