NPLs Drive Local Bank Rates High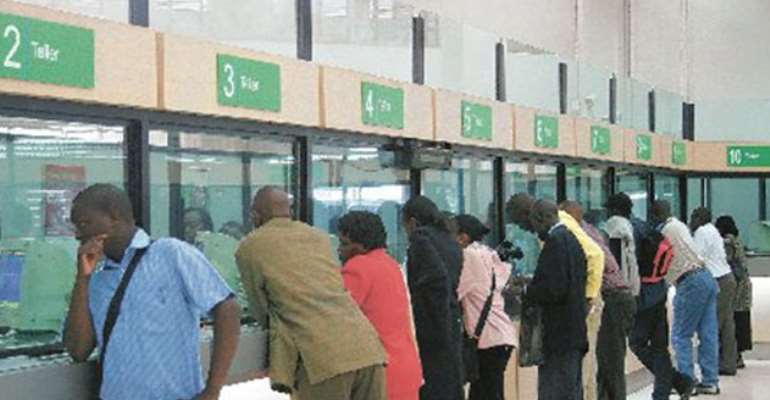 Indigenous banks have stated that they would have loved to give more loans to businesses in the country's private sector to boost economic activities to create more jobs, but unfortunately many businesses have failed to pay back the monies.
"We have raised the interest rate bar high because most of the companies we gave loans to, have not been living up to expectation regarding the repayment agreement we made with them," an official of one of the respected local banks told BUSINESS GUIDE recently in an interview.
According to the official, who pleaded anonymity, if the local banks do not adopt such a strategy, many businesses in the private sector would throng banking halls with loan applications and make matters worse.
The latest Central Bank report on annual percentage rates (APR) and average interest (AI) of the 33 commercial banks operating in Ghana as at May, this year, revealed that Bank of Baroda has the lowest bank base rate at 16.7 percent.
The bank offered 22 to 28 percent as actual lending rate to firms in the agriculture, manufacturing and commerce as well as the construction sector.
Also, people who applied to Bank of Baroda for vehicle, mortgage and other credits paid between 22 and 28 percent as the real interest or the APR.
OmiBank was the best institution in terms of deposits, offering the highest interest rate on deposits at 18.3 percent.
It was followed by Capital Bank at 15.7 percent, Stanbic Bank at 14.9 percent, Bank of Africa and Bank of Baroda at 14.8 percent respectively, the Royal Bank at 14.0 percent, uniBank and GN Bank also at 13.3 percent respectively while SCB and Energy Bank were at the bottom at 6.4 percent in that order.
In the case of lending, the average industry base rate was hovering around 26 percent, representing a marginal drop of 0.2 percent compared to 28 percent charged in April, this year.
 
By Samuel Boadi
[email protected]