Agadez (Niger) (AFP) - With tens of thousands of migrants flooding into the desert city of Agadez en route to Europe, Africa's smuggling capital enjoyed a surge in business which boosted the local economy.
But a government ban on the transportation of migrants has hit business badly, leaving disgruntled locals out of pocket.
"It's as if you smacked a child without saying what it had done wrong," explains Issouf Maha, mayor of Tchirozerine, a town in central Niger which lies on the edge of the Sahara, just north of Agadez.
In May 2015, the government in Niamey adopted a law banning the illegal trafficking of migrants with those found guilty facing a prison sentence of between one and 30 years, and fines of up to 30 million CFA francs (45,000 euros/$51,000).
It was only in August 2016 that the government began "rigorously" applying it, Interior Minister Mohamed Bazoum told AFP.
Since then, "more than 100 people smugglers" have been arrested, around a hundred vehicles seized and "nearly 7,000 migrants" brought back to Agadez, Bazoum said, indicating the importance of cracking down on all forms of smuggling.
"All trafficking is interlinked" whether it be in migrants, weapons or drugs, he said.
As a result of the crackdown, both smugglers and fixers have found themselves at a loose end.
'No other work'
But it's not only them: shops, banks and lorry drivers are also feeling the absence of the thousands of migrants who, despite their extreme poverty, have stimulated the economy in this impoverished desert city that is a key transit point for those heading to Europe.
"Me, I just help one of the fixers. Now the police are calling us 'accomplices'," says Achama Akomili, 35, describing the criminalisation of an activity which only three months ago was legal.
"Before I was earning a good living. I paid my rent through the migrants and the fixers. With that I could feed my wife and help my family. At the moment, it's not going well.
"We carry on because there's no other work. We've got no choice. Before I was earning between 30,000-40,000 CFA francs per day (45-60 euros).
"But now, I can go a whole week without earning anything," he complains.
And one day soon, he himself might have to join "the exodus" heading north, Akomili says.
'Business at a standstill'
Taher Soufiane, who has been driving migrants to the border since 2013, is also at a loose end after being arrested on the road with around 20 people in the back of his pick-up truck.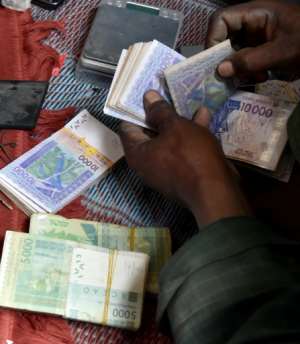 Niger's crackdown on transporting migrants has hit the smugglers themselves but has also hurt local traders and banks
"We didn't know it was forbidden," says this 29-year-old father-of-three.
After several days in jail, he appeared before a judge and was released. But he's not clear whether it's a provisional release before a trial or whether he's been handed a suspended sentence.
"They just told me that if I do it again, I will go to prison for a long time. They took my car and my work and now I just sit around all day," he complains.
"Why is Europe banning this without giving us anything?"
In the market, trader Issouf Halidou says he too has seen his business hit by the crackdown on people smuggling.
"I'm not selling anything any more. Business is at a standstill," he grumbles.
His stall is packed with all the paraphernalia sought by migrants taking the long desert journey north: for 500 CFA francs (75 centimes, 85 cents), you can buy a small water bottle, gloves, a balaclava and sunglasses.
For a little more, there is also food: milk for about 2.0 euros, cassava for 1.50 and sugar for 90 centimes. But now he doesn't know what to do with his stock.
Banks empty
The banks are also quiet, the walls covered with ads for money transfer services -- MoneyGram, Western Union, Allzza and others -- giving just a brief glimpse of multiple transfers they once handled.
"Before there was always a queue in front of the banks. There might be more than 300 migrants a day going into a branch! Today there's no one or nearly no one," said one bank employee, speaking on condition of anonymity.
"It's hard to know exactly what the shortfall is but there's definitely an impact, that's for sure. It's a loss for the region," he told AFP, saying the banks would likely start making staff redundant if the ban wasn't lifted.
The government is aware of the problems.
"The criticism is well founded," admits Interior Minister Bazoum.
"Taking into account the scope of trafficking in illegal migrants, a whole economy grew up around it which provided a living for many people.
"There is a need and we have committed to developing an alternative to this criminal economy."
'Where's the money?'
Backed by Europe, Niger embarked on a 460-million-euro programme to address "all spheres of activity", Bazoum said, indicating that it would address both economic and security issues.
But not much of it is likely to make an impact in Agadez.
"When are we going to see the money that Europe has given? There are all these meetings but there's never anything for us. We have women and children to feed and we're waiting," complained Abdoulaye Alora, a 45-year-old fixer.
For the Tchirozerine mayor, the fear is that the ban on transporting migrants will push those desperate for work into the arms of other criminal groups, such as those trading in cocaine, weapons or stolen cars.
One observer dismissed the European support as meaningless in the effort to cut back migrant flows.
"We should be treating the symptoms and not the causes. As long as there's more than 50 percent unemployment among young people in African countries, there will be migrants travelling through Agadez and other places."