Foundation hands over GHȼ430,000.00 school structures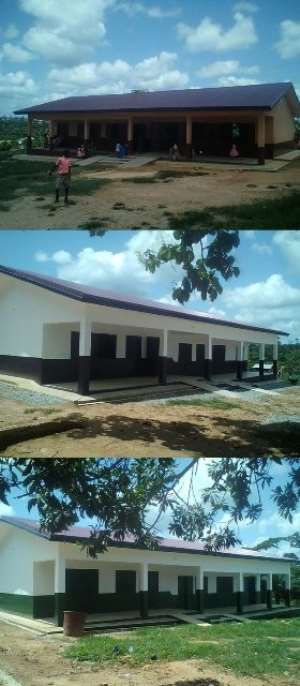 New Abirem (E/R), June 13, GNA - Three school structures built at a total cost of GHȼ430,000.00 by the Newmont Akyem Development Foundation (NAKDeF) for the New Abirem Cluster of Schools in the Birim North District, have officially been handed over at a ceremony.
Each of the structures comes with a head teacher's office, store and washrooms.
Mr. Paul Apenu, Executive Secretary of the Foundation, said these were meant to assist create adequate space for effective teaching and learning.
He announced plans to build a vocational training centre to provide the opportunity for the youth to learn trades and vocations that would enable them to become employable and economically self-supporting.
He underlined its determination to ensure that every community that fell within its jurisdiction received their fair share of development projects.
He said it was ready to help tackle the felt needs of the chiefs and people in communities affected by the operation of the Newmont Akyem Project.
Mr. Joseph Bebaako, the District Director of Education, promised that 210 tables and chairs would be supplied to the schools.
He called for the teachers and pupils to be inspired by the Foundation's intervention to work hard to improve performance.
Mr. Sampson Kwame Semedi, a teacher, appealed to the Foundation to assist provide teachers' accommodation to house those posted to teach in the schools.
He also asked that the school feeding programme was extended to the community.
Nana Obrempong Amoh Kyeretwie, the chief of Abirem, applauded NAKDeF for the strong strides it was making towards bringing development to the people in the area.
GNA
By Eunice Tekie Tei, GNA