Delta Force Fights Mosquitoes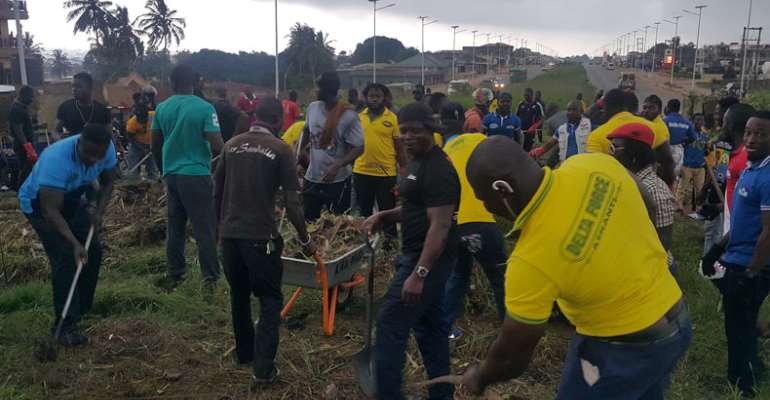 FOR THE second weekend in a row, the Delta Force, a vigilante group with links to the ruling New Patriotic Party (NPP), has successfully cleaned the streets of Kumasi, capital of the Ashanti Region.
The latest clean-up exercise, which took place at Tech and its surrounding areas on Saturday morning, saw the muscularly-built men clearing bushy areas to make the city look clean and beautiful.
The Delta Force members also desilted all choked gutters which used to be the main breeding grounds of mosquitoes.
They had during the previous weekend, embarked on another massive cleanup exercise at Tanoso and its surrounding areas, to help beautify the place and make it look clean.
Significantly, the Chief Executive of the Kumasi Metropolitan Assembly (KMA), Mr Osei Assibey Antwi, left the comfort of his office and offered a helping hand to the Delta Force members during the two separate exercises.
The Delta Force, it would be recalled, were in the news recently for bad reasons after it emerged that they had allegedly assaulted the newly appointed security liaison officer, George Adjei, in his office.
The Organizer of the Delta Force, Kwadwo Bamba, stated that his group is composed of law abiding citizens who are determined to contribute to national development.
According to him, the Delta Force members deeply regret the infamous incident which greatly dented their image, adding that Delta Force now wants to repair their dented image.
"And we shall do this by using our strength to fight mosquitoes, who bite people and infect them with malaria", Bamba stated, adding that the group would sustain the Kumasi clean-up exercise.
Kumasi Mayor, Osei Assibey Antwi, commended the Delta Force for mustering courage and putting the unfortunate incident behind them and working assiduously to contribute to national growth.
He assured that KMA would continually support the Delta Force with logistics and expertise so that filth, which had engulfed some parts of the city, would be cleared to make the city look beautiful.
FROM I.F. Joe Awuah Jnr., Kumasi