Technological Advancement Is Costing Ghana With Respect to Her Human Resource And Economic Development
Opinion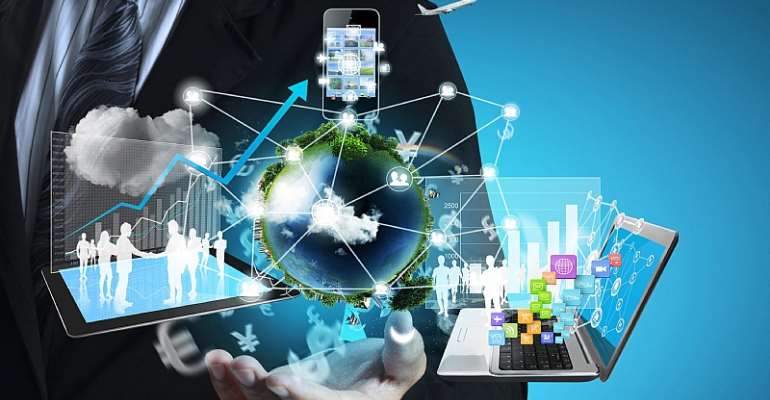 There is no denying the fact that technological advancement has contributed in no small measure to the development and speedy growth of the world. Mother Ghana is no exception of this technologically inclined world.
Practically speaking is the immediate feedback we get at our work places. This motivates and helps us to re-establish as well as re-strategize our ways of curtailing and avoiding certain debilitating challenges that has the propensity of unpardonably collapsing our businesses and companies.
The invention and use of computers and smart phones has significantly resulted in an increasingly higher productivity in every sphere of life in Ghana. This can be linked to the efficient and effective communication that these devices facilitate. This is a veritable fact.
Indeed, it is a worldwide fact that technology has sincerely and holistically ameliorated the slow and dull pace at which work was being done. Now, one can even sit at the comfort of one's room and do a lot of work without moving an inch. The usual traditional ways of moving helter skelter to do work has been augmented or better still ameliorated by technology. These are incontrovertible facts.
However, it is pathetically disheartening and sardonically lugubrious, the way and manner people rape and abuse technology without any remorse. As to whether they are not unaware of this abuse, is another topic to be expantiated on a different day. This abuse is not only retarding our progress gradually but also contributing to the shortage of human resources in the country. This is happening because majority of Ghanaian populace have lost sight of the use of some technological devices. Of course it is arguable but I know you will certainly concur with me as I advanced my points backed by substantially empirical evidence. As a matter of fact, technology which should have served as a projector to magnify the growth of the country's economy as well as immeasurably equipping the nation with adequate human resource is otherwise obstructing the very principles for which it has been invented in Ghana.
I know you are wondering why I made such statement. But don't be in a haste, just follow the story as it conspicuously unfolds to justify my claims.
You will unreservedly agree with me that victims of accident those days were usually quickly rushed to the hospital to safe their lives. Though we use to record a number of lives lost in accidents, the death rate was minimal. Unlike those days, the death rate in accidents presently, is on the ascendency. What in your view account for such ginormous number?
You might have witnessed or heard how some people engrossed themselves with picture taking and circulating accident victims on myriads of platforms. Instead of saving the lives of the accident victims, they are invariably enthuse and take delight in snapping the victims, pictures and circulating them on whatsapp and facebook platforms while the victims are lying in a pool of blood gnashing their teeth and calling for help. Has technology taken away our common sense? Of course I know you are very much concern about the identification of the victims. But the question is, how were accident victims identified those days when smart phones were not available?
Sadly, others even take the pictures till the victims die when they could have been saved from death. Shamelessly, we see such people circulating images of the dead bodies on the platforms even without seeking permission from the group members. In fact, most of these images torment the souls of the deceased as well as their families members. What at all do we gain from such acts? I believe you are being convinced with my line of argument? It is clear that potential doctors, lawyers, teachers, engineers for this country have lost their lives through our negligence. I think the intentions of the manufacturers of these smart phones are misconstrued hence being misapplied by some Ghanaians. The whites are disappointed the way we use these smart phones.
It is also an undeniable fact that Ghana is losing millions of Cedis as a result of these phones. You will agree with me that some workers in their offices spend most of the working hours fidgeting with their phones while the job is lying there undone. You can attest to the fact that some patients sicknesses get worst and others die simply because some nurses play with their phones resulting in their late attendance to these patients. We see these patients struggling as they join the queues to seek for treatment.
We see bankers equally manipulating their phones while costumers fight one another in the queues to either deposit or withdraw money. These are the acts that breed favouritism, bribery and corruption; the unhealthy behaviours that Ghana is grappling with so many years now. These uncharitable behaviours have eaten deep into our deep rooted moral fibre hence the current state of Ghana.
We also often times see teachers using instructional time fidgeting with their phones. This, many a times, lead to their inability to complete the syllabus hence the increasingly falling standard of education in the country.
In all sincerity, it strikingly behoves us as patriotic citizens to gingerly ruminate over this canker that has bedeviled our country presently. We must not deeply ingrained this retrogressive behaviour in our lives.
Conclusively, it is charitably pertinent we collectively and in unison, desist from such acts. It is rather incumbent on us to use these technological accoutrements as catalyst to speedify lives saving. I also want to use this opportunity to make a clarion call on all Ghanaians to see this as a collective responsibility that we must spare no efforts of ours to fight. God safes Ghana.
[email protected]
0240371356