Tudec Honor's Six Ambassadors
News
The Ghana-Turkey Corporation and Development Association (TUDEC) on Thursday 8th June, 2017 honored six gallant Ghanaians for their role in championing peace in the country at a Dinner held in Accra.
The annual dinner themed, Peace and Dialogue If tar, is organized during the month of Ramadan to bring members of all religious affiliations together to discuss matters of peace in the country in particular and the world in general, whilst observing the fast breaking.
The Managing Director of TUDEC, Mr. Yusuf Temizkan in his welcoming address, congratulated those present on the advent of the Holy month of Ramadan which is a time of spiritual renewal and a reminder of one's duty to his fellowman to serve one another and lift up the less fortunate.
He went on to say that the most basic doctrines of all religious beliefs are values bestowed upon us by God such as equality, freedom, dignity, peace and justice and that by honoring these values, we affirm that whatever our faith, we are all really just one family.
He explained that the peace award is meant to encourage individuals to use dialogue as means of achieving peaceful co-existence. He added that we need a constant reminder that together we can overcome ignorance and prejudice, conflict and injustice, not just by words but with deeds.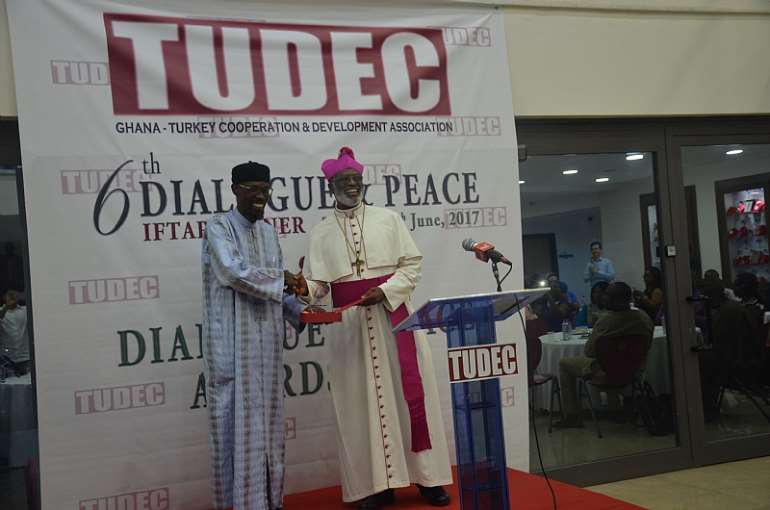 He congratulated all the awardees for the hard work and expressed the need for their commitment to peace to continue. He described he awardees as individuals in the community who have the courage to reject discriminations and overcome adverse environments even though they are often tested by external circumstances. He went on to say that the awardees remain steadfast in their spirit and remain committed to the greater good.
The awardees for this year were the Most. Rev. Palmer –Buckle, the Archbishop of the Roman Catholic-Accra, Sheikh Dr. Osman Nuhu Sharubutu who is the National Chief Imam and Major General Obed Boamah Akwa-Chief of Defense Staff of the Ghana Armed Forces. Others were Sheikh Ibrahim Cudjoe Quaye-Chairman National Hajj Board, Mr. Francis Azuimah-Executive Secretary at the National Peace Council and Dr. Vladimir Antwi-Danso- Director/Dean of Academic Affairs, Ghana Armed Forces Command & Staff College (GAFCSC).
The award recipients thanked management for acknowledging their contribution and promised to continue with the hard work in promoting peace and unity. They emphasized the need for love and tolerance among all people of the world, and were happy that TUDEC is committed to creating platforms for dialogue on peace, love and tolerance.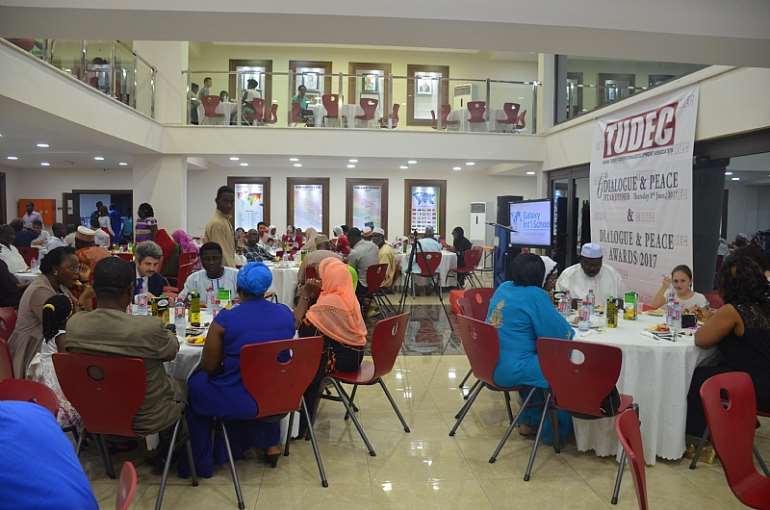 On his part, the Most Rev. Palmer-Buckle praised TUDEC for organizing such an event and stated such events must be organized to emphasize the relationship between Christians, Muslims and all other religious affiliations.
The dinner drew various people from all walks of life including current and former Members of Parliament and Ministers, clerics, educators, businessmen and a host of others. It was indeed a beautiful atmosphere as people gathered went round shaking hands and exchanging messages of peace and love.