Hon. Tina Mensah Donates 195 Pieces Of Dual Desks To Oblogo M/A 2&3 Primary Schools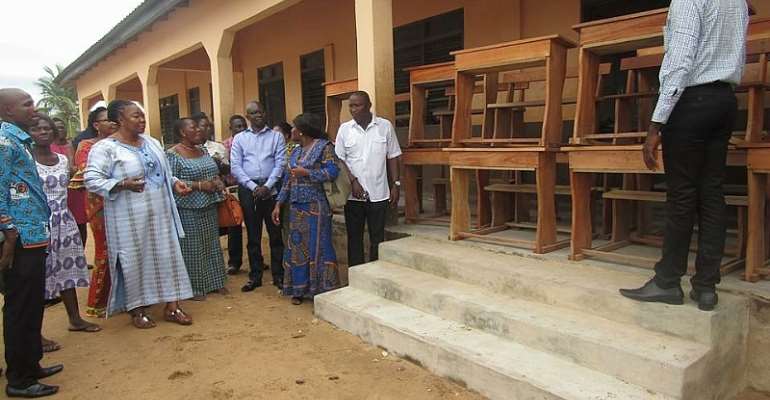 The Member of Parliament for Weija-Gbawe Constituency who doubles as Deputy of Health, Hon. Tina Naa Ayeley Mensah has donated 195 pieces of quality dual desks to Oblogo M/A 2&3 Primary Schools with a pupil population of 682. The dual desks which cost over Ghc 50,000 are the best so far supplied to schools in the Municipality.
This kind gesture, demonstrated today Monday, June 12, 2017. was greeted with joy by pupils and teachers of the schools as a sign of relief.
The donation was received on behalf of the school by Mrs. Felicia Agyeibea Okai, the Municipal Director of Education in charge of schools in the Ga South Municipality.
The Education Director expressed her appreciation to the MP who doubles as Deputy Minister of Health for her short response and commended the sense of urgency she attached to the need to assist the schools with desks.
She remarked, " I thought the MP will supply the desks in September, but has supplied it so early". She added that, the MP has agreed to supply 400 dual desks in total, hence she is hopeful she will supply the rest.
The two schools which are among nine other schools in Weija Circuit have had serious challenge with desks. The situation which has persisted for over a year, has attracted several media houses to put the situation in the public domain for a solution which did not materialise until the timely intervention by the Honourable Member.
On 26th February, 2016, Hon. Jerry Akwei Thompson, the former Municipal Chief Executive under the estwhile NDC administration handed over the Oblogo M/A 2&3 primary school structure to the Education Directorate for use without furnishing the six-unit classroom block with desks. The unavailability of desks have affected teaching and learning.
In an interview with the Honourable Member, she stated among other things that, she has to supply the dual desks urgently because the desks situation at the schools was very abhorring and therefore need serious attention.
She concluded by saying that, she will do everything within her powers to assist all schools in her constituency.