Being President Is Not Easy, Nana Addo Needs Your Prayers—Bawumia Tells Sunyani Muslims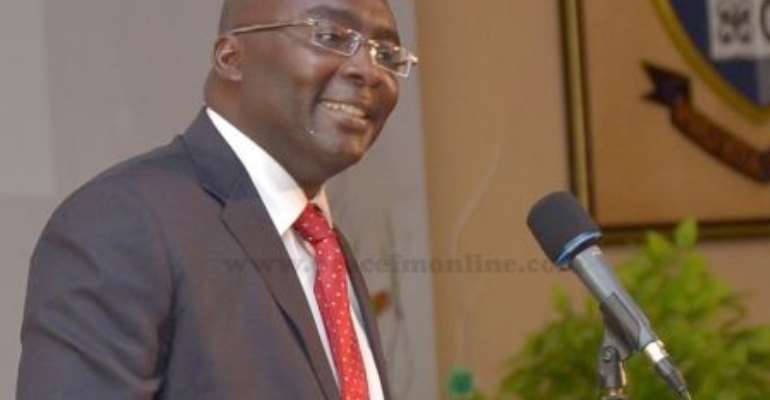 The Vice President, Alhaji Dr Mahamudu Bawumia has called on Muslim community in Sunyani to pray hard and support President Nana Addo Dankwa Akufo-Addo for him to work assiduously to fulfill all the promises pledged.
"Being President is not easy, the work you have given to Nana Akufo-Addo is a great task, and you should help him to execute that task, As a president all your vision is to give your people more development. You can have the vision but without God's strength and guard you can't do it, that's why am pleading to you to continuing praying and support to help the government deliver for us to be free and happy" he added.
Vice President, Alhaji Dr Mahamudu Bawumia, on a nationwide Ramadan Tour speaking at the Sunyani Central Mosque last Sunday to break fasting and pray with Muslims recalled that he was in the region and mosque last year to ask for their support in the run up to the elections and it is only proper that he comes in person again to thank them for helping the NPP win.
Vice President, Alhaji Dr Mahamudu Bawumia said " we came here to thank you our brothers and sisters, our mothers and fathers who helped us so much to vote for Nana Addo Dankwa Akufo-Addo as president of Ghana, we are also extending the same thanks to all Ghanaians of all religions especially Brong Ahafo region people for massive votes during 2016 elections ".
According to Dr. Bawumia, "I know Nana Addo Dankwa Akufo-Addo and worked with him from 2008, 2012 and now 2017, Nana is a man of his words. He is a man who keeps his promises. He is a man who has sympathy for the suffering of the Ghanaian masses. He said that if given the opportunity he would establish the Zongo Development Fund to help the people in the Zongos, he has done exactly that. He has allocated Ghs 219 million for the Zongo development fund and the passage of the Zongo Development Fund law this year will make sure that every year funds are allocated from the budget for this fund and we will see a lot of development in the Zongos."
He said the fund is the first time in the history of Ghana a government has instituted in the interest of Zongo development.
" Free Senior High School education, restoration of Teaching and Nursing Training allowances, One Village-One-Dam, and One District One Dam,I( Bawumia) assure you that the President is a man of his word he will fulfill every pledge".
Speaking on 2017 Hajj package for prospective pilgrims, vice Alhaji Dr Mahamudu Bawumia said some innovations had been introduced to reduce the burden and stress of pilgrims both in Ghana and Saudi Arabia including identifiable accommodation tags, transport service , feeding on arrival at Madina and feeding before departure in Jeddah, in Saudi Arabia.
"We have put everything in place for your well safety and health conditions in this year Hajj pilgrims, that makes 2017 Hajj special" he added
Vice President, Dr Bawumia visited similar facilities in Kintampo, Techiman and ended at Sunyani Central Mosque.
Sheikh Umar Abdul Kadiri, the Brong-Ahafo Regional Chief Imam,expressed his profound gratitude to Alhaji Dr Mahamudu Bawumia for his visit and assured him that they( Muslims) will continue praying for Nana Addo and him for them to fulfill all the promises he made to Ghanaians.
He pleaded to Nana Addo and Bawumia to help the only Islamic training college school in Ghana which is located in Wenchi to stand on its feet well,by providing them with learning materials and others needed things for training college.
Vice President, Dr Bawumia was accompanied by senior party executives and government officials including Brong Ahafo Regional Minister, Lawyer Kwaku Asomah Cheremeh, Sunyani East MP Hon. Akwasi Ameyaw - Cheremeh ,Minister for Business Development, Kamal-Dean Abdulai, National Nasara Coordinator, Regional Director of Youth Employment Agency, Mr. Micheal Boateng and some MCEs and DCEs in the region.