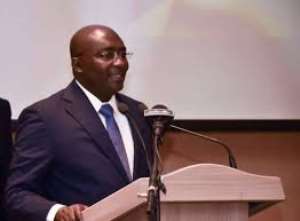 Accra, June 12, GNA - Vice-President Dr Mahamudu Bawumia says government will continue to assist in the provision of infrastructure to the Regional Maritime University (RMU) as assented to at the time of regionalization.
He said to this effect more than three million dollars worth of oil and gas equipment has been purchased for the University.
The Vice-President was speaking at the 11th congregation of the University, where degrees, diplomas and awards were awarded to students and the 10th Anniversary of the RMU was launched.
A total of 441 students graduated with bachelors and diplomas in various fields, with seven per cent of the undergraduates graduating with a First Class honours, forty-five per cent with Second Class Upper Division and thirty-nine per cent with Second Class Lower Division.
Seven per cent of the diploma candidates obtained Distinction and fifty-three per cent obtained Second Class Division.
The Vice President said with the vision of the President to create jobs for the youth, the Ministry of Transport has set up a committee to implement the programme on job creation in the Maritime sub-sector.
Under the programme, the Ministry of Transport in collaboration with the RMU and the Ghana Maritime Authority will train and equip thousands of youth to meet international standards for seafaring activities and operations.
He said this would be carried out in a manner similar to the Philippines model to bring livelihood for the youth and bring in foreign exchange.
'To this end, the Ministry has been charged to come out with a proposal for the acquisition of the long awaited training vessel for the University as a matter of urgency,' the Vice President said.
He commended the Vice-Chancellor, Professor Elvis Nyarko, management and staff of the University for their hardwork in shepherding the students through their collective efforts.
Prof Nyarko said the University has reviewed all its existing programmes and has developed new ones in line with its quality management system and in line with requirements of accreditation bodies.
He said a number of new postgraduate and undergraduate programmes have been developed and approved by the Academic Council and four of them have been submitted for accreditation.
'Two of the programmes M.Sc. Renewable Energy Engineering and Bachelor of Business Administration (Accounting Option) have already been assessed by the National Accreditation Board and hopefully, these programmes will be rolled out before the end of the year,' Prof Nyarko said.
He said the collaboration with Bernhard Schulte Shipping Management Worldwide has yield another important development with expansion of its operation on RMU campus with the institution of permanent structures with State-of-the-art teaching aids.
Prof Nyarko urged the graduates to endeavor to further their education to the higher levels to take advantage in the academic sector.
'Do not be afraid to take up leadership roles, for you have been equipped and you have what it takes to lead with integrity and honesty,' he said.
GNA
By Morkporkpor Anku, GNA