There Will Be Unintended Consequences
Opinion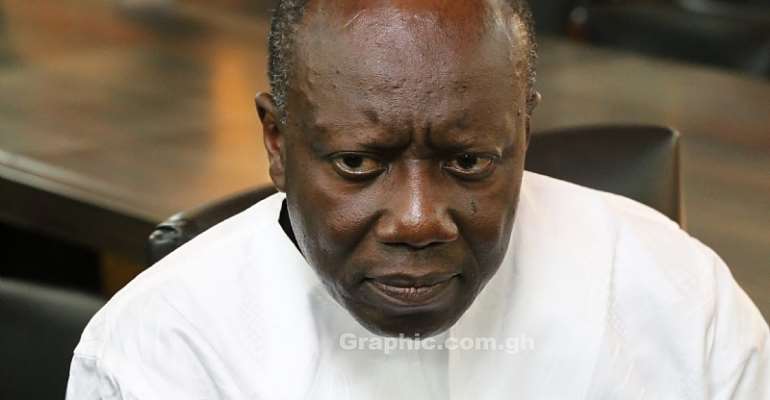 You cannot blame the man if you were not responsible enough to have heeded repeated calls, as a civil or public servant, to change with the exigencies of the times. Among the Akan, there is a common and simple saying that: "As time changes, so must you." The deletion of the names of more than 26,000 workers from the Government's payroll was preceded by several advisories for workers who had not yet enrolled onto the new biometric or computerized registration system to promptly do so, or be prepared to lose out on their paychecks (See "Ken Ofori-Atta Has Earned Our Respect – NAGRAT" Adomonline.com / Ghanaweb.com 5/15/17).
It appears that some workers and/or their bosses wanted to test the seriousness of the Finance Minister. And so in quite a meaningful sense, those genuine workers who got their names deleted from the public payroll deserved a bit of what they ultimately got, namely, a delay in receiving their paychecks. I don't rule out the possibility of some portion of this problem of negligence's being the fault of local clerks and administrators. But it probably all boils down to the previous regime's half-hearted and pathologically partisan attitude towards the fiscally wasteful problem of having "ghost workers" draw salaries and wages for absolutely no labor input at all.
The term itself is an oxymoronic misnomer; for other than within the figment of an individual or even a cultural unit or community's imagination, ghosts live outside our corporeal or physical reality. They may very well exist but not on our public payrolls. And even if any of them really do work, such work is probably well outside the realm of the primary experience of the living. They are ghosts because they have gone over to the other side – the antipodes of life, as I once wrote in a poem that I published in Ghana in the late 1970s in a one-time-issued high school-oriented magazine called Ideal Student.
What I was coming to next is that I vividly recall a fiscal-trimming or disciplinary campaign launched by then-President John Dramani Mahama a little over 3 years ago. I believe it was called the "Ho Initiative" or some such designation. It had a small board of directors that included Mr. Franklin Cudjoe, the founding director or president of the IMANI-Ghana think-tank. Mr. Cudjoe would be shortly bumped off this board or committee because an operative of the then-ruling National Democratic Congress (NDC), as I vividly recall, thought that the IMANI-Ghana boss had proposed fiscally disciplinary measures that threatened to make the NDC unpopular, because they were aimed at retrenching parasitic party apparatchiks on the public dole.
In other words, for Mr. AmetorQuarmyne, keeping party faithful content and happy was far more important than running a fiscally disciplined government with the barest minimum of tolerance for corruption. Of course, mistakes are bound to be made in the necessary process of trimming blubber from the public's payroll, even as Finance Minister Ken Ofori-Atta intimated recently at the National Policy Summit. But in the end, the balance sheet is apt to reflect an exercise well worth its energy and temporal investments. Some much-needed money may also be freed to supplement the budgetary needs of such cardinal sectors of our national life as Health and Education. Which is why, ultimately, the government may be better off disclosing both the long- and short-term savings that it may have achieved, and what such savings means for the fortunes of the Ghanaian taxpayer and the nation at large.
Already, the Finance Minister tells us that combing through the public payroll with his staff of crackerjack bean-counting experts and auditors, they chanced across the names of one or two directors of finance who physically did not exist (See "Sorry for Deleting Genuine Names from Payroll – Ofori-Atta" Classfmonline.com/Ghanaweb.com 5/15/17). Now, that is remarkable sleuthing of genius. But it also points to the Stygian rot which the previous regime smugly and cavalierly supervised and presided over.
*Visit my blog at: kwameokoampaahoofe.wordpress.com Ghanaffairs