16 Suspects Arrested For Stoning Woman To Death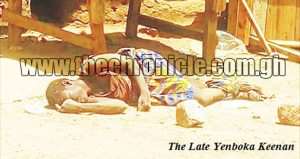 The Bolgatanga Police Command in the Upper East Region, last Saturday, arrested 63 persons in a mass swoop at the Pelungu and Tindongo communities respectively, following the lynching of a 67-year-old woman accused of witchcraft.
Superintendent Samuel Punobyin, Bolgatanga Municipal Police Commander, who has oversight responsibility over the Nabdam and Tongo police stations, confirmed the arrests to The Chronicle and said their action was based on intelligence they gathered from the two communities.
According to him, the arrests were meant to help them in their investigations, because they were told some people took the woman to the Pelungu Chief, who later released her, after which she was lynched. He added: "We were told she was lynched by people living in the area, and so, we will screen all the suspects and ascertain those who would have taken part in committing the crime."
Some residents of Tindongo, where the deceased, Yenboka Kenna, hailed from, accused her of witchcraft, and on Sunday May 28, 2017, she was accosted and taken to the Chief of Pelungu, Naab Sierig Sore Sobil IV.
Upon her release by the Chief, who was reported to have told her accusers he could not sit on the matter because they could not establish evidence against her, she was subsequently subjected to severe beatings at the Pelungu market, stoned, and clubbed with all manner of objects until she became unconscious.
She was left to her fate under the mercy of the weather until the following day, when she died before noon.
The police later picked up her body and deposited it at the Upper East Regional Hospital, Bolgatanga, where a postmortem was conducted, and the body released to her family for burial.
The action by the police on Saturday followed incessant calls by well-meaning people of the area, including the Member of Parliament for Nabdam, Dr. Mark Nawaane, for justice for the late widow.
At the time of filing this report Sunday evening, the families of the arrested suspects were jostling at the police station in Bolgatanga, in their bid to get bail for their members, but the police insisted they were still taking their statements and going through due process towards a screening exercise this morning.
Meanwhile, Superintendent Punobyin has hinted this paper that Naab Sierig Sore Sobil IV, who was currently in Geneva for the International Labour Organisation (ILO) conference, would be invited by the police as part of their investigations.
From William Nlanjerbor Jalulah, Bolgatanga