Nana Gives To Muslims In Kumasi
News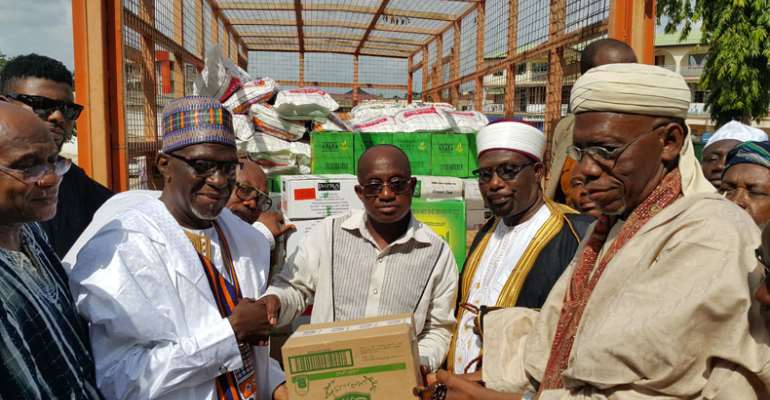 Simon Osei Mensah making the presentation to the Muslims in Kumasi
President Akufo-Addo has presented assortment of food items and an undisclosed amount of money to Muslims in Kumasi.
The presentation was made on behalf of the president by the Ashanti Regional Minister, Simon Osei Mensah, and Kumasi Mayor Osei Assibey Antwi.
The largesse took place some minutes after Muslims in Kumasi finished their Friday prayers.
The regional minister presented the food items to the Ashanti Regional Chief Imam, Sheikh Abdul Mumin, at the Central Mosque in Kumasi.
The items presented included 100 bags of rice, 50 boxes of cooking oil, 50 bags of sugar and 50 boxes of Lipton to help the Muslims during the Ramadan.
Mr Osei Mensah announced that the president would be making similar donations to Muslims in all the 47 constituencies in the region.
On behalf of the president, he appealed passionately to the Muslims to use the Ramadan period to pray for peace and prosperity for the country.
Mr Osei Mensah stated that the country's future look bright as proper policies and programmes were being introduced to accelerate Ghana's growth.
The Ashanti regional chief imam, on his part, assured that Muslims would continually pray to Allah to lead the country into prosperity.
The Coordinating Director of the Kumasi Metropolitan Assembly (KMA), Michael Ataogye, and other top officials of the assembly were also present.
 FROM I.F. Joe Awuah Jnr., Kumasi