Over 300 Rendered Homeless In Axim
News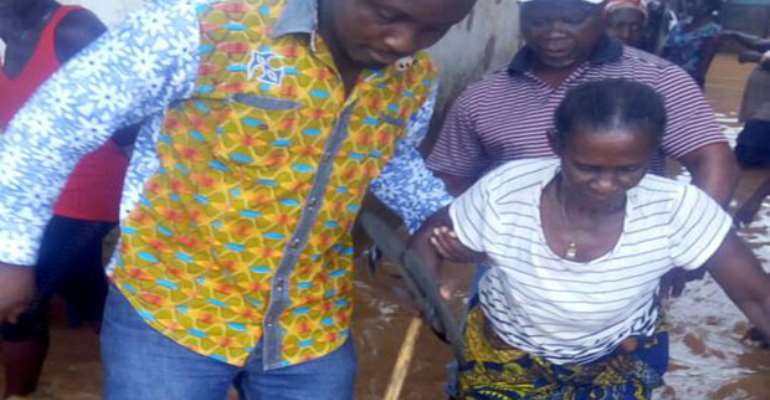 The Frank Okpeyen (left) rescuing an old woman to safety
Most parts of Axim, the capital of the Nzema East Municipality of the Western Region, were devastated by heavy flood after torrential rains that lasted for hours last Saturday.
The ancient fishing community was submerged by the rains, flooding homes and displaying hundreds of residents in some of the communities in the municipality.
About 300 residents in Akyinim and Botukule, all suburbs of Axim, have been rendered homeless after the heavy downpour.
The flood also took over the main road linking the Axim Municipal Assembly offices to the main lorry station near Victoria Park in Axim for several hours, sources told DAILY GUIDE.
The residents, mostly fisherfolk, were seen salvaging their belongings through the flood to safety.
The people asserted that valuable property, including buildings and vehicles, were virtually submerged by the floods in some of the areas in the municipality.
"The floods also rendered many of the roads almost impassable," they pointed out.
DAILY GUIDE learnt that the Nzema East Municipal Chief Executive, Frank Okpeyen, and his entourage visited some of the affected areas to assess the situation.
The MCE's visit revealed that most of the aged were finding it difficult to come outside since most of them had their rooms flooded. They were later brought to safety by a rescue team.
It was also revealed that property, including buildings, worth millions of Ghana cedis, were destroyed by the rain.
Speaking to DAILY GUIDE, the MCE assured the victims of the support of the assembly and the National Disaster Management Organisation (NADMO) in the municipality.
He, however, called on the residents to distil their gutters so as to allow easy flow of water when it rains.
The MCE later visited a 56-year-old farmer, Paul Blay, who escaped death after a building he was living in collapsed on him and was admitted at the Axim Government Hospital.
Paul Blay told journalists that he was in his room waiting for the rain to stop so that he could go to his farm.
He pointed out that all of a sudden his building collapsed on him and injuring him severely in the process.
The MCE promised to pay all the medical bills of the victim since he has no health insurance card.
He also advised the affected residents to relocate to other relatives elsewhere whilst authorities find solutions to the problem.
From Emmanuel Opoku, Takoradi