Jealous Man Chops Off Ex-Girlfriend's Hand
News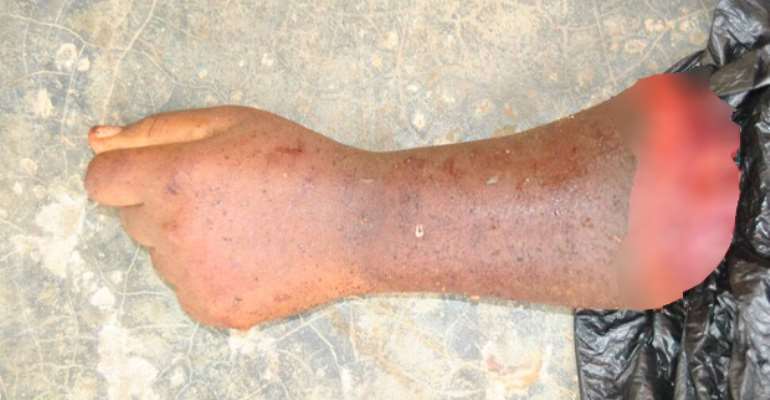 JOSHUA TEI, a 22-year-old farmer, has been declared wanted by the police in the Suhum municipality for allegedly chopping off his girlfriend's hand over suspicion of cheating.
The incident reportedly occurred at about 7:30 pm on Saturday at Aponoapono, a farming community in the Eastern Region.
The victim, whose name was given as Patience, has been hospitalized at the Suhum Government Hospital for treatment while the amputated hand has been put in the morgue.
Patience, who narrated the incident to DAILY GUIDE, said she was in church but came out to receive a phone call and that unknown to her, her former boyfriend, who had laid ambush near the church and monitoring her movement, suddenly emerged from the bush, assaulted her and chopped off the hand that was holding the mobile phone. She said Tei took to his heels thereafter.
According to Patience, she shouted for help and the congregants rushed her to the hospital.
The severed hand which was reportedly dangling, could not be sutured and had to be amputated.
DAILY GUIDE learnt the suspect, who lives in a different community –  Tei Mensah – had for sometime now been accusing the victim of cheating on him.
According to some neighbours in the area, Joshua Tei had been threatening the ex-girlfriend and so the latter reported the matter to the former boyfriend's parents but no action was taken.
FROM Daniel Bampoe, Suhum