Hurray the NATIONAL DEMOCRATIC CONGRESS @25...!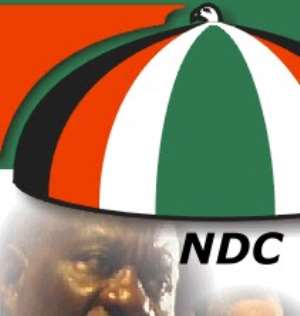 Hello Comrades,
As we celebrate this Silver Jubilee of our great Party, let us consider it a Milestone against injustice, fighting against poverty and impacting the lives of the underprivileged!
We brought development to Ghanaians in all forms and shapes!
We helped that Community without Electricity; through the Rural Electrification Project, that Village without a School; through the Removal of Schools under Trees Project, We built those Polytechnics; Technical Universities, Funded education through GETFUND, We built some of those Teaching Hospitals, We provided jobs for the citizenry, we helped the women of this Country gain livelihoods, We built those brand new Secondary Schools; through the Community Day SHS project, We resolved Dumsor with an addition of 800MW of generation capacity, we elimanate 'Kufour Gallons'; through Urban Water Project!YES, we did it!
Today, I would like us to reflect; yes reflect! Reflect on and make commitments for the future.
.....in all humility and without prejudice Sir/Madam,
As former Leaders of this great Party, will your values live long after you are gone or you will be called a hero after you have left us (God Forbid evil)
Will you be celebrated now? (What is the value to be called a hero only when you are no more)?
As a Cadre, what will be your legacy to future generations; that you abandoned or were abandoned halfway through the journey or that we abandoned the values of the P-NDC?
As a former Appointee, who have you imparted with the values, virtues, and principles of the NDC; and who were your protégés?
As a former Party or current Party Executive, how much have you contributed to growing this party?
As young ones, what is the motive of your commitment to the values and principles of the Party; to make ends meet for yourself at the expense of the Party? Or you are truly committed to the Probity and Accountability call?
As a young man/woman, will you feed into the cracks and crevices if any just to achieve a certain end?
As a young man/woman, is your motivation to live by the values and entrench them or for you, its business as usual?
As a young man/woman, is your motivation genuine and born out of conviction or you are a henchman to a paymaster?
As a young man, will your commitment be that of a bridge builder?
As a young man, are you committed to our return to power or its a 'try and error' mode activated?
As a young man, will you remain hurt or you are willing to forgive the supposed neglect, victimisation and vilification?
As a young man, would you go out and win souls? Will you cross the rivers we crossed in the past to ensure victory? Will you dirty your hands to ensure victory? Will you be in those remote areas without network, water and good meals just to ensure we win power?
Young man, are you ready to roll up your sleeves and get to work? Will you deny yourself the comfort of your bed and police that ballot box?
As a young man will your actions bring us votes?
Well, if you said YES to any then enlist in the 'FORCES'! The 'Force of Conviction' and Commitment to see 2020 become a reality!
Here it is! 2020 will be based on our utmost collectivity!
It will be based on fail-proof strategy and mobilization of our grassroots
2020 will not be a choice to make; it would be a conviction to return to.
2020 will be based on track record of both Parties and the showcasing of superior evidence of capacity while in power!
Let us remember there are no free votes stored in the EC system for any party!
In 1996 the NPP lost the election with over 1.2million votes, but 4years on won the 2000 election; ain't that possible with us? I dare say an emphatic YES!
I agree with those who claim it will be daunting but I much more with my conviction, I say "YES, WE CAN"! (Obama, the audacity of hope)
Let us remember! In this project, you will not be left out when all is said and done!
Your rewards will no longer be 'give us some time', 'let's be hopeful', 'your time will come'! Etc.
I guarantee you a reward even at the behest of our comfort and dealings!
God help us
Long live Ghana
*Long live the NDC*
*Wonder MADILO*
Youth Activist, NDC