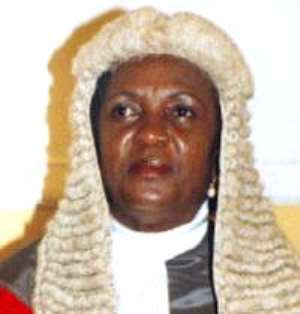 It goes to show you, what some of us have been saying and writing about all along, that the Rawlings-minted main opposition National Democratic Congress (NDC) is the worst political machine ever created in Fourth Republican Ghanaian democratic culture. People like Dr. Raymond Atuguba, the former Mahama Presidential Staffer, had better listen to the recently retired Chief Justice Georgina Theodora Wood painfully recount the heavy pressure that the Mills-Mahama-led government of the National Democratic Congress piled upon her to get her to resign her post from the beginning of 2009, before making such self-serving, flagrant and invidious pronouncement as partisan politics having deeply impacted our national culture, whatever the latter may be (See "I Nearly Resigned Over NDC Pressure – Rtd C J Wood" Daily Guide/Modernghana.com6/8/17).
Under the Mills-Mahama regime, the first Ghanaian woman to be named Chief Justice, by then-President John Agyekum-Kufuor, in 2007, was publicly disrespected and humiliated. There was that scandalous moment in Parliament, when President John Evans Atta-Mills, to the glaring view and presence of the members of the diplomatic corps, deliberately refused to acknowledge Chief Justice Wood in the salutation of his State of the Nation Address (SONA). That infamous snub had been deliberately written into the speech by default. And so it is rather disgusting and annoying to hear operatives of the National Democratic Congress hypocritically accuse the Akufo-Addo Administration of hostility towards upper- and middle-level political appointees so named to their jobs by former Presidents Mills and John Dramani Mahama.
But, of course, what is uniquely remarkable about Chief Justice Wood is the fact that she had not allowed the great animosity that the late President Mills had for her prevent her from wanting to have a major court building in Central-Accra named after her deceased arch-antagonist. Seeing her resolve not to be pushed around, then-President Mills callously resorted to the use of novice cabinet second-bananas to criminally defy decisions handed down by the Wood Supreme Court. There was that moment in the landmark case of Obetsebi-Lamptey v. Okudzeto-Ablakwa and Omane-Boamah, for example, when staunchly backed by the most powerful politician in the land, Messrs. Samuel Okudzeto-Ablakwa and Edward Omane-Boamah flatly and publicly refused to hand over landed and real-estate properties legally acquired by Mr. Jake OtankaObetsebi-Lamptey, late, then former National Chairman of the then-main opposition New Patriotic Party, to the rightful owner.
That the man who set these two political toddlers to such patent act of criminal mischief had earlier on distinguished himself as one of the leading lights of the University of Ghana's Law School, is what the cynical likes of Dr. Atuguba ought to be talking about. Justice Wood now heads towards membership of the Council-of-State, as one of the most important advisors to President Addo DankwaAkufo-Addo on major issues of national concern.
In the latest attempt to personally humiliate Chief Justice Wood and several of her closest associates on the august Court, including Justice Dotse, some three radical media propagandists, namely, Messrs. SalifuMaase (aka Mugabe), Godwin Ako Gunn and Alistair Nelson, publicly threatened to rape this woman who easily looked to be older than the mothers of these Mahama-sponsored political bullies, as well as physically liquidate a handful of her associates for flatly refusing to use the Apex Court to advance the interests of President Mahama. The so-called Montie Three would be sentenced to serve time at the infamous Nsawam Medium-Security Prison, but would be pardoned and have their sentences summarily revoked in a show of raw power by the shameless benefactor of these three violent urchins.
Interestingly, the Montie Three would also be staunchly backed by nearly every female cabinet appointee of the Mahama regime. This is the dismal judicial track-record of the National Democratic Congress that party ideologues like Dr. Atuguba would rather have treated as if it never happened.
*Visit my blog at: kwameokoampaahoofe.wordpress.com Ghanaffairs