News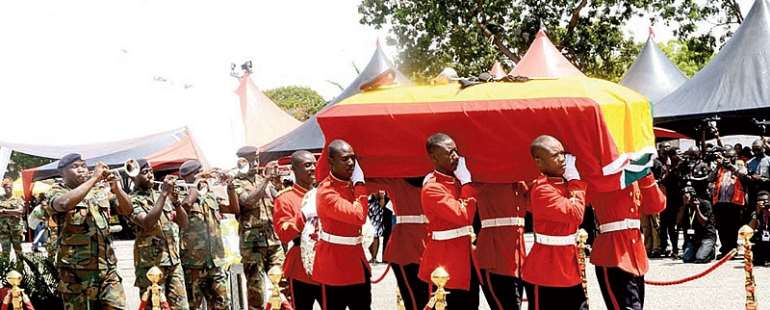 Pallbearers marching off with the casket containing the remains of the late Major Maxwell Mahama
Major Maxwell Adam Mahama was yesterday buried at the Osu Military Cemetery with full military honours after a solemn state burial service.
It was attended by people from all walks of life, including Vice President Dr Mahamudu Bawumia (who is acting as president in the absence of President Akufo-Addo who is attending UN and other programmes), ministers of state, parliamentarians and two former presidents – J.A. Kufuor and John Mahama.
Former President John Mahama arrived at the forecourt of the State House where the burial service was being held in the company of his aide, Stan Dogbe, while former President J.A. Kufuor also arrived in the company of his special aide, Frank Agyekum.
Rebecca Akufo-Addo and Samira Bawumia, Ghana's first and second ladies respectively were all in attendance.
A delegation from the Leicester University in the United Kingdom (UK) where Major Mahama – who was promoted posthumously from the rank of Captain by President Akufo-Addo, the Commander-in-Chief of the Ghana Armed Forces, to Major last week – was pursuing his masters degree in security and criminology; and was due to graduate in July this year, also attended the burial service.
Major Mahama was lynched by a mob at Denkyira-Obuasi in the Upper Denkyira West District of the Central Region on Monday, 29th May.
He was sent to the area as commander of a military detachment to check illegal mining (galamsey) activities.
Some members of the bereaved family and members of the public, who were at the burial service, wept uncontrollably as the clergy, led by Naval Captain (Rev) Paul Agyei-Gyan, conducted the service.
They were really touched by the tributes of the widow, Barbara Mahama, as well as the mother of the deceased, Veronica Bamford-Addo.
Some government officials were also seen constantly wiping tears from their eyes, with the most emotionally moved official being the Central Regional Minister, Kwamena Duncan, who could not control his emotions and shed tears freely as the widow was paying tribute to her departed husband.
The father of the deceased, Captain Dennis Adam Mahama (rtd), was also choked with emotions as he read a tribute in honour of his son.
Paying tribute to her son, the mother, Veronica Bamford-Addo, wondered why the people of Denkyira-Obuasi could kill her innocent son in a most horrific, barbaric and violent manner.
"I am falling into pieces. Tell the killers they have destroyed me. Tell them, he was a very special son, forever my son calling me mummy, mummy, mummy. Tell them they do not know this loving, very affectionate son of mine. They do not know about how he would walk in, lift me up, put me in the sofa and say 'relax mummy.'
"It feels my heart has been ripped from my chest. I feel hollow, just moving about like an empty shell. My baby has gone forever. They have taken him away from me ooo. His life was cut short in most violent, disgusting way.
"I need an answer to my question—WHY? Give me an opportunity to face these murderers so they can see and understand what they have done to a mother. Let me tell them what they do not know about my son, Adam. Let me show them his two innocent children. Tell them they have taken Barbara's sunshine away," Ms Veronica Bomford-Addo read.
In her tribute, Barbara Mahama said, "Yo, what was for breakfast' was the last message I sent to you on Monday at 9.12 am after we spoke at 6:00 am and you said you were going to have your bath. For the first time in my life, I experienced a ripping heart on Monday night. I woke up to throw up. I had tummy issues too; I just felt sick.
"I am glad you saw me worth to share your great but short life with. I won't forget to tell the kids how heroic and great you were and are. Your memory will never die. You are not dead. You are still alive, alive in our hearts.
The Vice President, Dr Mahamudu Bawumia, also read a moving tribute on behalf of the government and the people of Ghana.
"The nation cannot mourn Major Maxwell Adam Mahama enough. Our tears cannot stop flowing as we lay to rest, such a fine example, of not only what it takes to be called a soldier, but indeed what it takes to be called a human being."
He asked for great forgiveness from the soul of late Major Mahama for the people of the nation for cruelly taking his life while working to protect them.
"How do we explain to his young children when they grow, that their father lost his life at the hands of fellow Ghanaians, not at the hands of foreign invaders and not in a battlefield? How do we reconcile the irony that Major Maxwell Adam Mahama died while protecting our environment and our future? If ever there was a person who did not deserve to die, it was Major Maxwell Adam Mahama," the vice president said in the tribute, stressing that the death of Major Mahama must serve as the death that heralded the death of impunity in the country.
"May the tears of his wife, children and family never again be shed by another soldier's family. Major Maxwell Mahama, may it be known to you, even as you journey into eternity, that we – the government and people of Ghana – shall immortalize you, celebrate you. Let the angels sing to you, that you left behind a nation in appreciation," Dr Bawumia stated.
After the various tributes, wreaths were laid on behalf of the government and people of Ghana by the vice president while the Chief of Defence Staff (CDS) Lt. Gen Obed Boamah Akwa, did so on behalf of the security services.
Former President Mahama laid one on behalf of the family while the widow also laid one on behalf of Major Mahama's kids and on her own behalf.
The casket of the slain soldier draped in national colours was later carried by military pall bearers amid contingents of soldiers and members of other security services to the military cemetery at Osu for his eventual interment.
By Thomas Fosu Jnr