Aregbesola's Destruction Of Education In Osun State
Opinion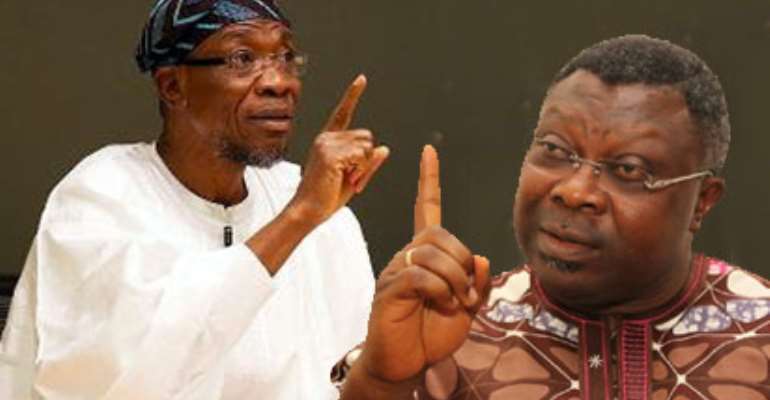 When you destroy the educational system of a people, you have not only destroyed their future you have accelerated the process of enslaving their children.
Aregbesola is a completely destructive agent of our heritage, our hopes and our aspirations in Ijesa land and in Osun State in general. His destruction is not just in the realm of physical, it extends to emotional, economic and psychological.
From our high horse as clinical examples in good education, Aregbesola has piloted Osun State educational system into doldrum. Focusing on the so-called infrastructural development as a ruse and means to steal Osun's funds, Aregbesola ran the modest State into serious and decapitating debts.
Without shame, Aregbesola keeps up his propaganda of lies as Òsun Students continued to showcase saddening abysmal performance in SSCE exams: coming a distant 22nd in 2014, 29th in 2015 and same 29th in 2016 on the national performance scale as against 9th in 2009!
His conscious attack on our educational system started with starving the teachers of their earned wages. For those who remember, Aregbesola NEVER met with the principals and headmasters in Osun State until few weeks to his reelection. At that point he was owing about 4 - 6 months in wages across the board.
He bamboozled them to give him another chance, and here we are today.
The Ijesa are now making their feelings known. Other segments of Osun people are doing the same. Osun people have to be ready for the next election in all ramifications. "Àgbàrá òjò kò l'óun o n'ílé wó o, oní'lé ni kò ni gbà fun o."
He is now talking of going back to Lagos. This means in the first place, Aregbesola came in as a carpetbagger to loot and destroy Osun State. He was never part of us. He never cared about us. He only came to exploit us and ended up inflicting untold emotional, economic, psychological, social and religious hardships on us.
On'idi ni ko nii je ki ìdí un ba je o. We must rally round in the coming election of 2018 to put an end to our misery as represented by Aregbesola and his bandits.
Below are the comments of my dear brother, Seye Awosanmi on the destructions of our schools. Please, read:
".......on this matter Ogbeni and his advisers goofed, same way they goofed when they woke up on the wrong side of their beds and turned my mother and her sister's much cherished Alma Mata St Margaret & Babalola Memorial into some funny local schools.
While doing all these, they seem to have forgotten the most basic and elementary principle that no matter how much is spent on building infrastructure without equal concentration on requisite Human Capital, such efforts are in futility, call it all motion, no movement.
While state governors in North, East and South-South are arranging international scholarship and foreign exchange programs for their young people and investing their last funds on education of their young people, our oversabi or too know south west enclave governors including Ogbeni are busy divesting resources from education, churning out criminals thereby narrowing down the much cherished south west educational advantage.
This of course may be their Achilles heel in 2019, a misadventure that may eventually put an end to their ignominious rule in south west, While one agrees that they might not really have started this degeneration, one must also agree that this malaise has gradually assumed what one can call a disastrous dimension during their rule with ordinary south west people becoming endangered with this increasing level of ignorance being marketed and celebrated freely.
Of course, thuggery comes easy for an ignorant young populace, and these politicians cannot but design thus as one of the means of self perpetuation using their man-made ignoramuses as willing tools to easily convert into their yes-men to boost their brigandage in the name of political sophistry."