President Akufo Addo Confers With President UN General Assembly
Diaspora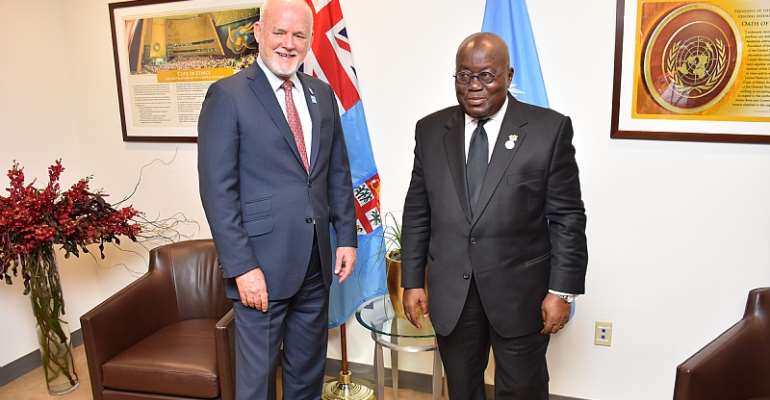 Ghana's President, Nana Addo Dankwah Akufo Addo, has held a wide range of discussions with the President of the United Nations General Assembly., Mr Peter Thomson at the United Nations headquarters in New York.
The closed door discussions believed to have centred on the positive relations between Ghana and the UN, followed a similar courtesy call yesterday one the Deputy UN Secretary General Amina Mohammed.
Present at the discussions were the Foreign Minister, Shirey Ayekor Botchway, Secretary to the Present, Nana Asante Bediatuo,Ms Patricia Appiagyei, Deputy Minister of Environment and other government officials.
President Nana Akufo Addo arrived in New York on Wednesday for the first ever High-Level "Ocean Conference " to find ways to conserve and sustainably use the oceans, seas and marine resources for sustainable development.
Under the theme "Our oceans, our future: partnering for the implementation of Sustainable Development Goal 14", the four-day event attracted many heads of state and other top government officials to discuss effective ways to reverse the present decline in the health of the oceans for people, planet and prosperity.
The conference has also brought together hundreds of relevant stake holders, intergovernmental organizations, academic institutions, the scientific community, private sector, civil society groups and youth to propel a game-change, by using the forum to galavanize action-oriented partnerships at all levels that will provide lasting solutions.
Opening the conference, UN Secretary General Antonio Guterres warned that "pollution, over fishing and the effects of climate change are severely damaging the health of our oceans".
Addressing the conference on Thursday, Nana Akufo Addo said that Ghana is concerned about the growing incidence of illegal, unreported and unregulated fishing globally.