A Lesson  From  Mrs. Barbara Mahama's Tribute
News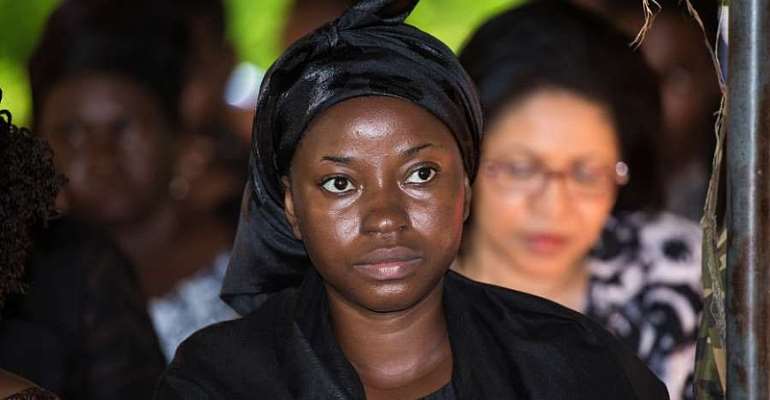 Oh death what have you done to Barbara's sunshine?. Major, Captain Maxwell Mahama, rest in perfect peace. My eyes have been on Mrs. Barbara Mahama since the day the Major's death was published. I really felt for her loss. Although I never knew the Major in person, I simply cannot withhold my tears. What of his beloved Barbara!!!.
She is an epitome of a good companion (wife) in life. I read her tribute with mixed feelings of sadness and happiness. Happiness because she freely wrote about the lovely life she shared with his husband. She scarcely uttered a word as she mourned her beloved Maxwell. I can read that she is also a woman of few words and a practical good fearing woman. May the good Lord continue to lead her.
As I read Barbara's tribute, I was motivated to share this piece with the general public, particularly spouses. As spouses, we should make it our duty to love each other in spite of circumstances. We should make each others life comparatively better than before we met. We should build a loving home. Nowadays there are a lot of broken homes because we do not understand love.
Let us leave through 1 Corinthians 13, 4-8, I quote, "Love is patient, love is kind. It does not envy, it does not boast, it is not proud. It does not dishonor others, it is not self-seeking, it is not easily angered, it keeps no record of wrongs. 6 Love does not delight in evil but rejoices with the truth. It always protects, always trusts, always hopes, always perseveres. Love never fails'.
Sadly, there are spouses who envy the progress of their partners''. Why should it be so? In such situations, it simply implies that you really do not love the person, but you are tied to him/her for reasons known by you alone!!!
I am totally convinced that Maxwell gave a loving home to his family and for that reason Barbara will forever love him. His mum, of course, first loved him and will always do but that of Barbara's is what spouses should strive for in our homes. We should express our love in all the possible ways we can. Let us not focus on the imperfections in our lives, but rather be thankful for ourselves. In doing this we will be fulfilled when death pounces his hands on us.
Moreover, building a lovely home as husbands and wives descend to our immediate extended families. It is obvious that, the love Maxwell and Barbara shared made the bond between her and her mother in-law strong as time passed. They can be called the Naomi and Ruth of our time.
This is the reason why Maxwells's mum pledged his 'living' support for Barbara. In some cases, families have fought with the spouses of the dead. We can tell from such scenarios that, most often such homes were not harmonious.
I end by saying that, we must choose our spouses because of love. We should never lose sight of this basic reason of a loving home. Henceforth I entreat all spouses to rekindle their love for each other. My condolences to the family of the late Major Maxwell Adam Mahama, especially his sunshine Barbara. I would love to meet you one day. We probably will set up a marriage school, a dream I love to propagate. Indeed, we can construe a lot of good memories from your companionship with Maxwell!!!!!