Ghana School Survey and Mapping to re-open on June 12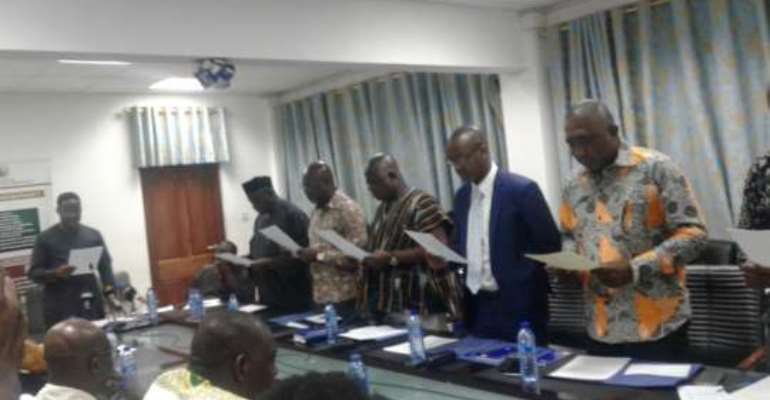 Accra, June 9, GNA - Mr John Peter Amewu, the Minister of Lands and Natural Resources on Friday inaugurated the governing board of the Ghana School of Survey and Mapping with a call on them to come out with innovative ideas.
Such ideas, he said would transform the School into an academic institution of excellence.
The Minister announced that the School which was closed down on May 2, 2017 following students' agitations over sale of school lands should be re-opened on Monday, June 12, for resumption of academic work.
He charged the board to resolve the impasse and prevent any future students' agitations, as well as ensuring good governance in managing the affairs of the School.
Mr Amewu administered the Official Oath and Oath of Secrecy to the eight-member board and reminded them of the enormous task ahead.
He acknowledged and commended the outgoing board, the management, the teaching and non-teaching staff as well as all stakeholders for their contributions over the years.
He congratulated the members of the newly sworn-in board for their selection and entreated them to deliver on their mandate, saying 'We want land title administration to be delivered within 30 days'
The board members include; Alhaji Sulemana Mahama, Technical Director of the Ministry of Lands and Natural Resources and Chairman of the Board, Mr Jones Ofori Boadu, member from the Lands Commission, Mr Edwin Addo Tawiah, member from the Survey and Mapping Divisions of the Lands Commission and Mr Frederick Bediako Mensah, member and Principal of the School.
The rest of the members are; Dr Isaac Dadzie, member from the Geomantic Engineering Department of the Kwame Nkrumah University of Science and Technology, Mr Mark Brookman Amissah, member from the Ghana Institution of Surveyors, Mr Bright Joseph Nsia, a member, representing the Students Representative Council and Mr Francis Manu-Adabor, Chairman of the Parliamentary Select Committee on Lands and Forestry who was a former principal of the School.
The Minister pledged the support of the government and urged the board and management of the School to ensure that the students received adequate career development so as to impact positively on the nation's development.
The members of the board have a two-year tenure subject to renewal for another term.
Alhaji Sulemana Mahama, the Board Chairman, on behalf of the members of board, expressed his appreciation to the government for the confidence reposed in them and thus, pledged to deliver on their mandate in order to enhance the development of the School.
'I'm aware that some sections of the public are dissatisfied with land administration services therefore we will work diligently to enhance such services,' added.
He said the students were the building blocks of the survey and mapping in the country, therefore, they would perform the task ahead to the best of their abilities so as to put the School on a higher pedestal.
GNA
By Godwill Arthur-Mensah, GNA