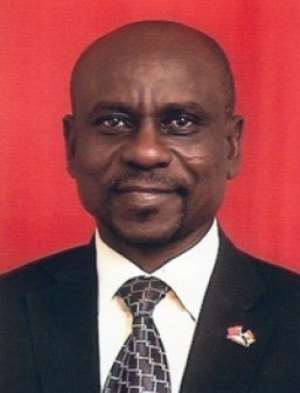 Accra, June 9, GNA - Major Derrick Oduro (Rtd), the Deputy Minister for Defence has applauded the Ghana Armed Forces Command and Staff College (GAFCSC) for designing and implementing the Peace Operations Course and Combined Joint African Exercise 2017.
He also commended the course director and all resource persons, who availed themselves to facilitate the programme.
Major Oduro (Rtd) gave this applause in a speech read on his behalf by Rear Admiral Seth Amoama, the Commandant of the GAFCSC at the closing ceremony of the Peace Operations Course and the Combined Joint African Exercise 2017.
The Course was to provide the military officers of the College Senior Course 38, officers from other security agencies and middle level directors of selected institutions with the knowledge of planning, coordination and conduct of peace operations at the strategic, operational and tactical levels.
He said in the wake of the very recent Gambian crisis, the importance of a capacity for crisis intervention to African Nations, sub-regional organisations and the African Union could not be overemphasised.
He said considering the multi-dimensional nature of peace operations and the rate at which the bouquet of associated considerations had changed over the past few years, the importance of realistic practical training as part of the overall capacity building strategy must be recognised.
Major Oduro (Rtd) said participants should endeavor to continue updating their knowledge and stay in touch and exchange information on a regular basis and apply what they learnt to every relevant situation.
He also commended the GAFCSC for adding innovative programmes to its curricular and for bringing agencies of the State together to seek common ways to address important national and regional issues.
He said this initiative was lauded and urged Ministries, Departments and Agencies to render the necessary support to sustain such programmes.
Colonel Lawrence K. Gbetanu, Chief Instructor, Army Faculty told the Ghana News Agency that the objective of the course was to develop participant's understanding of the nature of conflicts in Africa, the concept of peace operations, military component planning process, diplomacy and mediation in peace operations.
The rest are integrated mission support, the ASF and ESF concepts.
It is also to develop a platform for participants to tap experience from professionals and key personalities with diverse peace operations exposure, develop the participant's knowledge of the integrated mission planning process.
He said in all over 100 participants took part in the course coming from various countries namely; Botswana, Liberia, Mali, Namibia, Nigeria, Rwanda, Sierra Leone, South Africa, Tanzania, Togo and Zambia.
They consist of 64 military officers and 37 civilians coming from various agencies.
Mr Kofi Agra, a Participant said the course exposed them to the operations of peace keeping and its processes.
'The knowledge we gained will also take us through our working environment and also sharpen our understanding of issues,' he added
GNA
By Morkporkpor Anku, GNA