Renewable Energy Is Flexible To Use - Environmentalist
News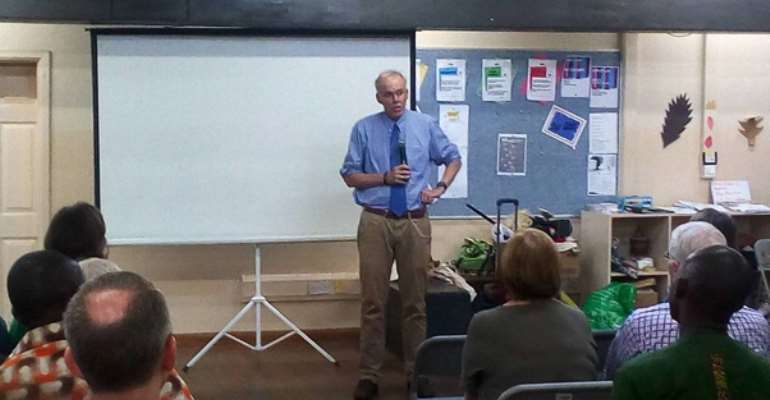 The cost of renewable energy keeps dropping over the past ten years and there is quick learning curve which is making engineers build better renewable energy systems, thus making it flexible and reliable to use, says Bill McKibben, an international environmentalist and co-founder of 350.org, USA, the first planet-wide, grassroots climate change movement.
For instance, the price of solar panel has gone down by 80 percent in the last ten years, non-comparable to anything globally in terms of price dropping, he explains at a meeting with civil society organisations to share perspectives on climate change in Accra, organised by 350 Ghana Reducing Our Carbon (G ROC).
The country through the Energy Ministry in 2014 signed an agreement with China's Shenzhen Energy Group, parent company of Sunon Asogli Ghana Ltd., intends to develop a 2×350MW supercritical coal-fired generating units (including affiliated coal handling terminal), to generate 700 megawatts of electricity at Ekumfi within the coastal areas of the Ekumfi District in the Central Region of Ghana.
Coal-fired power is one of the most polluting forms of energy available, particularly when compared to renewable energy alternatives such as wind, solar and geothermal power. The use of coal to produce energy is regarded globally as dangerous to the activities of mankind and the society in general. Several research conducted by many organisations such as the World Health Organisation shows that coal particulates pollution cause approximately one million deaths annually across the world.
"That is why it is a mistake for countries to walk themselves into fossil fuels plants now. If you build a coal power plant now, you are still going to be using that plant in 2060. By 2040, the whole rest of the world are going to be using solar energy for everything because it would be so cheap," McKibben emphasises.
President Akufo-Addo's administration and Paris Agreement
The administration of the New Patriotic Party (NPP), led by President Nana Akufo-Addo looks set to focus more on the application of renewable energy to generate electricity. The manifesto of the NPP intends to rapidly move to the adoption of a distributed solar energy solution for all government and public buildings and work within the framework of Ghana's obligations under the Clean Development Mechanism (CDM), UN Framework on Climate Change (UNFCCC) and Conference of Parties 2015 (COP21).
Under this framework, the NPP will ensure that least cost environmentally friendly technologies are prioritized in the expansion of the country's thermal generation portfolio. In particular the Renewable Energy law will be reviewed to regulate and incentivise investments in renewable technologies.
"Everybody is very grateful that Ghana seem set to live up to the Paris agreement and is now backing away from coal fire power plant," he mentions.
According to him the new administration has the chance to be one of the world leaders in leapfrogging away from fossil fuel technology.
He believes that Africa can be one of the places in the world first to use renewable technologies on a huge scale and Ghana is blessed with many things-but sunlight and wind are clearly two of the things most blessed with.
"And you don't have to dig anything up to get that. We look at pictures in the media on what mining does to the places mining goes on that does not happen with the sun. The sun is shining on us every day and we are either wasting it or doing something with it," McKibben adds.
Coal importation cost benefit analysis
Under the erstwhile administration of the NDC, the VRA and its partners intended to import coal from South Africa and even Colombia at a cost, which is more expensive and if you add cost of climate change then it is prohibitively expensive.
"Think of the money that a country like Ghana have to spend to try and defend against drought and flood as they become more common. These are the greatest problems that the world has ever faced-climate change and so anything that keeps it from getting worse is in everybody's economic interests as well as moral interest," he stresses.
Renewable energy and political will
He states that the only to get leaders promote renewable energy is to keep running campaigns. "We call politicians leaders-but in truth they are more often followers of what the public will is and so the crucial thing is education and campaigning and pushing, that makes it easier for good politicians to do the things they want to do anyway and makes it harder for politicians to do corrupt things," he says.
Investment in solar energy
Change in energy is coming very fast and it harder for older people including political leaders to adapt to those changes to understand that the world is shifting around, he said.
"It is important for countries especially poor ones not to lock themselves in obsolete technologies. If Ghana has lots of money to waste then I guess it could build some coal fire power plant but my guess is Ghana does not have money to waste," he indicates.
Pushing the renewable agenda by youth
Young people have to be listened to because they are the ones who are going to live with the results, he notes, adding, "People should pay more attention to young people than old people."
Chibeze Ezekiel, the National Coordinator of 350 G ROC says the Meeting was organised to have dialogue with csos who are supporting the G ROC campaign against coal and generally reduce carbon emissions to combat climate change to share perspectives with Bill, who is co-founder of 350.org.
"At the country level we have the Ghana energy policy in place, and we are seeing how best we can help government to implement the policy which touches on renewable energy as alternative source of energy generation."
According to him Ghana is in energy crisis, where demand is more than supply, so obviously we are seeing government making efforts to meet demand accordingly.
"As a youth network we are trying to support government to ensure we have reliable energy supply and not a short term energy supply. Renewable energy has proven to be best alternative, and coal power generation is unsustainable."
"The Government's 100 days achievement said they have established a policy which mandates major government institutions like the police and military, ministries to move into solar energy and we believe it is a good call and willing to support government to find ways to make it operational and have the ability to generate more energy to meet demand," he said.
"Renewable energy have systems that users can build at the domestic level in their own house with solar panels that can be fixed for any user therefore it is not a huge plant once there is a major problem a whole community have to suffer, so it is very flexible and reliable," Ezekiel notes.