Establish Research Fund - Professor Owusu urges government
News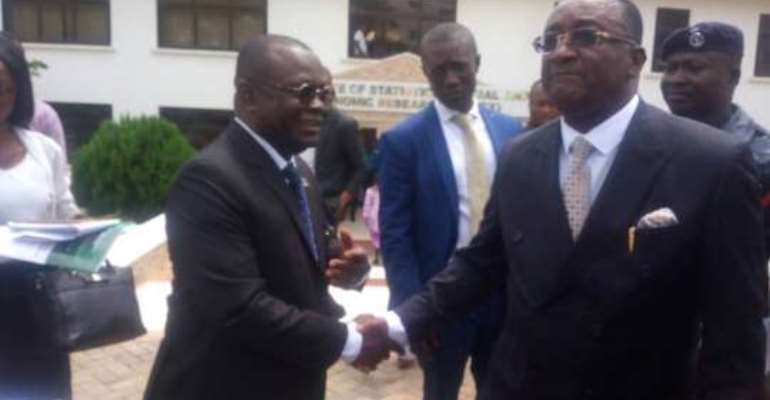 Accra, June 9, GNA - Professor Ebenezer Oduro Owusu, the Vice Chancellor of the University of Ghana (UG), has urged government to accelerate work on the establishment of a National Research Fund.
He said 'The National Research Fund was extremely important to our national development in all aspects of research to generate the kind of knowledge needed for Ghana's socioeconomic development.
'Very often than not we write proposal going round outside the continent looking for money for our research but the time has come for us as a nation and as a continent to be able to handle our own affairs,'
Prof Owusu stated this in his closing remarks at the 10th Anniversary Launch and Symposium of the West Africa Centre for Crop Improvement (WACCI), UG.
'The time has come for government to motivate research. To place research on a high pedestal and know that without research there is no way we can develop as a nation,' he said.
The event held on the theme: "The March towards Food and Nutrition Security in Sub-Saharan Africa," was attended by renowned academics, agriculturists and industrialists from across the globe.
Prof Owusu appealed to government to also establish the Chemical Research Fund and called for an agricultural revolution in Africa; stating that there was the need for the training of more agronomists and agriculture experts, and the provision of resources to move agriculture forward.
'The fact is that we have not challenged ourselves as Africans. I think we are so happy importing food. And we've not seen the need to be self-sufficient in food production; this is the demonstration by WACCI,' Prof Owusu said.
'And so in providing resources, we are not only talking about money, we are talking about making sure that we have a very clean environment. So we can produce clean and healthy food for our people.
'Clean environment means making sure that we are able to protect our arable lands, we are able to protect our water bodies; to make sure that we have enough moisture of precipitation for our crops.'
He commended WACCI for spearheading Africa's agriculture transformation.
Prof Eric Danquah, the Founding Director of WACCI, said: "I am more than elated that from our early beginnings, WACCI has today become a globally significant institution".
"In 10 years, we have demonstrated that in working with strategic partners and taking giant strides, we have been able to produce quality PhD graduates, who are game changers and who are making history on the African continent," he said.
He said all 35 graduates of the Centre have returned to their home countries and were leading breeding programmes in West and Central Africa.
He said in July 2017, 17 of the current 73 students would receive their PhD degrees in Plant Breeding at the UG Congregation Ceremony.
He said with the strategic plans, they had made for further expansion and the record of their success to date, WACCI was poised to have a tremendous impact on food security for Africa in the decade ahead and beyond.
Among the high profile personalities, who graced the function were former Vice President Paa Kwesi Bekoe Amissah-Arthur and his wife Matilda; Dr Matthew Opoku Prempeh, Minister of Education; Mr Ken Ofori-Atta, Minister of Finance and Dr Owusu Afriyie Akoto, Minister of Food and Agriculture.
Others were Mrs Mercy Haizel-Ashia, Registrar, UG; Dr Agnes Kalibata, the President, AGRA Kenya and Prof Ronnie Coffman, Director, International Programmes, CALS, Cornel University.
WACCI, which is a partnership between the UG and Cornell University, USA was established in June 2007 with funding from the Alliance for a Green Revolution in Africa (AGRA) at the UG to train Plant Breeders in Africa working on the improvement of African crops in local environments for farmers in Africa.
Its vision is to become the foremost Centre for post-graduate training and research in crop improvement in Africa.
GNA
By Iddi Yire, GNA