DCE Rejects Donation For Farmers In Dunkwa Over Illegal Mining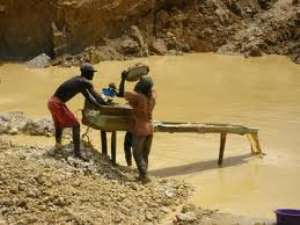 Credible information reaching Ultimate1069.com indicates that the District Chief Executive of Upper Denkyira West in the Central Region, Ambrose Amoashia, has vehemently rejected farming implements donated to the assembly by Persus Mining Company Limited.
Persus Mining Company Limited attempted to donate items such as cutlasses, Wellington boots and knapsack sprays to be distributed to farmers during the just ended farmers' day, but the DCE for the area sent them packing.
Speaking to Ultimate1069.com, the General Manager, Cooperate Affairs', Mr. Edwin Allotey Acquaye explained that the DCE for the area blatantly told them to send the items back to the company.
'When the items were sent to Upper Denkyira West District Assembly, the items were rejected by the DCE who asked us to send the items back to the office and that he was not going to receive the items. It was explained to him that the items were meant for the noble and hard working farmers but he didn't barge,' he disclosed.
He attributed Mr. Amoashia's conduct to illegal mining dispute that occurred between the youth and the mining company some time ago.
'We don't have any problem with the DCE, just that there was some illegal mining operation on the company's concession, they basically invaded the company's concession. We decided to get the security agencies to get them out, but we did not receive the cooperation of the DCE, I think he was not happy that the company has commenced mining in an area he wanted to encourage illegal mining. We believe that is the reason behind his rejection of the items,' he disclosed.
He expressed disappointment that such a gesture that supports farmers was turned down.
'It's very disappointing, farming is a very noble profession, we are alive because of the hardworking of these farmers, and if an individual or organisation comes to support in your district, it should be encouraged, because government cannot do it alone. However, the company is not deterred by this action, we will continue to donate for the benefits of our farmers,' he indicated.
He noted that the items did not go waste as farmers indentified by the Planning committee of the National Farmers' day celebration in the district were given the items.
'Every year on farmer's day our farmers are honoured for their hard work, we at Persus since 2010 have been donating to district assemblies within our operational area to support national farmers' day activities. This year we made two donations to two districts, we had items such as cutlasses, Wellington boots and knapsack sprays, we split the items into two, we sent some to Wassa Amanfie district in the Western Region and the DCE accepted the items and thanked us for once again supporting farmers. However, the Upper West district DCE rejected the items,' he said.
All efforts to reach the DCE proved futile.