Hajj Board Considering Kumasi Pilgrims Airlift
News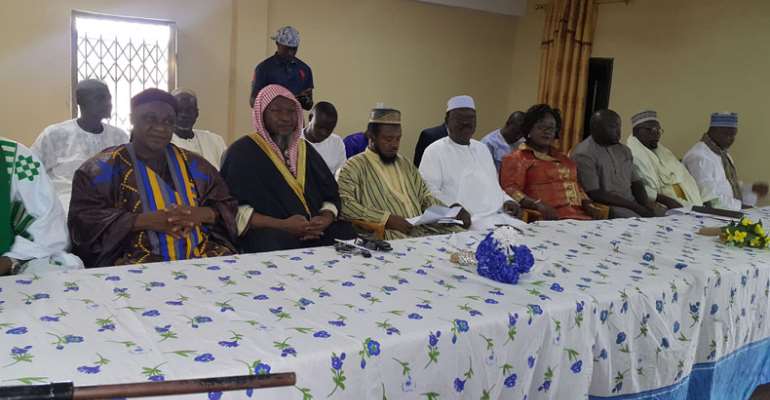 MUSLIM PILGRIMS in Kumasi, the capital of the Ashanti Region, starting from next year, will no longer travel to Accra before emplaning to the holy city of Mecca to perform Hajj, it has been announced.
The Hajj Board Chairman, Sheikh I.C. Quaye, has announced that plans are far advanced to make Kumasi the third flying base of Muslim pilgrims in the country after Accra and Tamale in the Northern Region.
Beaming with smiles as he announced the positive news to Muslim leaders and groups in Kumasi on Wednesday, he stated that the new policy would help prevent the difficulties that pilgrims in the Ashanti Region endure annually.
Sheikh I.C. Quaye was speaking when the Hajj Board Members travelled to Kumasi to interact with stakeholders including Imams and agents, regarding preparation being made to fly about 6,200 pilgrims to Mecca this year.
The important meeting, which took place at the Central Mosque in Kumasi, is among the numerous interventions made by the current Hajj Board to help make this year's Hajj an incident-free affair to make the pilgrims happy.
Sheikh I.C. Quaye announced that Flynas airline would fly the pilgrims to Mecca early August, indicating that six flights would take off from Tamale, whilst seven flights would leave Accra with the pilgrims.
He admonished the prospective pilgrims to pay the charging fee of US$3,450 which is approximately GH¢15,000, on time to avoid disappointment; reminding them that June 30, 2017 is the closing date for payment.
Sheikh I.C. Quaye disclosed that Ghana had made financial commitments towards flying the pilgrims to Mecca this year, adding that his group had also worked to improve facilities at the Hajj village to ensure the comfort of pilgrims.
The Ashanti Regional Chief Imam, Sheikh Abdul Mumin, entreated prospective pilgrims to pay their fares on time for smooth documentation of their travel, lauding the current Hajj Board for their positive efforts to make the Hajj a success.
Deputy Ashanti Regional Minister, Elizabeth Agyeman, on her part, said this is the first time stakeholders have been allowed to offer their input to help make the Hajj a success, noting that "this novelty needs to be applauded".
Alhaji Abdul Rahman Gomda, Communications Director of the Hajj Board, said the Hajj Board had engaged an ICT luminary, Dr. Sanni, to capture the data of pilgrims to help properly streamline their travel to avoid pilgrims becoming stranded.
He announced that this year the pilgrims would not pay for their bags, they would stay in air-conditioned tents at Arafat and enjoy two meals at Medina among other positive innovations to make the pilgrims feel comfortable.
The MCE of Asokore Mampong, Alhaji Alidu Seidu, Hajj Board members, Muslims leaders, Imams, agents, among other dignitaries, attended the important meeting.
FROM I.F. Joe Awuah Jnr., Kumasi